AirTurn, Inc. has announced the release of the STOMP 6 — a wireless, six switch foot pedal. The STOMP 6 connects to any Bluetooth-enabled device and works with hundreds of apps to perform tasks that simplify music performance.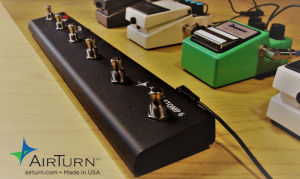 OnSong has just released immediate support for the STOMP 6 which allows users to configure 40+ actions per switch. Musicians can perform hands-free with digital sheet music and charts that are easy to transpose and always stay organized. For musicians looking to enhance their stage presence, OnSong can also trigger backing tracks, stage lighting and integrate with MIDI-capable instruments, effects processors and apps for complete control. OnSong is the first app to harness the possibilities of the new STOMP 6 with its rich suite of functionality.
The STOMP 6 is designed for the professional musician who wants to add a tablet or computer into their setup. Its all-metal enclosure is designed to mount to guitar pedal boards with a 9V power supply, but can also be used right out of the box with a standard 9V battery (included) that lasts for 100 hours of continuous use.
The STOMP 6 retails for $139 MSRP and will be available for order on the AirTurn online store on 1/18/2017
Perform Anywhere
Going paperless with your music means more flexibility. Import your charts with ease or
create your own songs with OnSong. You're always organized so there's no more
flipping around with binders looking for the right song in the right key. Pulling sets is just
as easy. With the AirTurn lineup of foot pedals, you can play for hours without ever lifting a finger. Put your iPad in a case and mount it on a mic stand with a MANOS mount. Neither darkness, wind nor rain will keep you from the music.
Jam In Any Key
Never worry about forgetting a song again. If it's in your library, you're ready to jam. The powerful transposition engine in OnSong let's you put the song in the right key. Apply a capo and OnSong handles modulating chords so you can spend more time playing music and less time remembering music theory. With the AirTurn STOMP 6 and OnSong, you can assign an action to transpose and capo on the fly.
Let The Music Play
Sometimes it's hard to get the band back together — or maybe you're a solo singer/
songwriter. With backing tracks, you can fill out your sound and engage the audience.
OnSong lets you link each song in your repertoire to audio tracks you can trigger with
just a touch of a finger, or the press of a pedal. Built in crossfading even lets you keep
the show flowing. The AirTurn STOMP 6 gives you even greater control of playback.
Pedal To The Metal
The AirTurn STOMP 6 features an all-metal enclosure with six, stomp-style foot switches. Mount and plug it into your pedalboard power supply or use it all by itself with a standard 9V battery (included). The AirTurn STOMP 6 connects wirelessly to most all Bluetooth-enabled devices for leveraging the capabilities of 100's of apps in your gig.
Don't Forget It, Preset It
Your audiences demand more and now with OnSong and the AirTurn STOMP 6, you can deliver the performance you've imagined. Preset MIDI and control all of your effects processors, instruments, foot pedals… even other apps! OnSong lets you link MIDI to each part of the song, or you can trigger MIDI right from the AirTurn STOMP 6. Since MIDI is built into all professional music gear, you have all the power of the pros.
Light It Up
OnSong isn't just chord charts and sheet music, it's all about your stage performance.
Add visual flair to your show with lighting, lyrics and video. You no longer need expensive equipment or complex programming to make your show shine. Whether you're playing on the main stage or in the local pub, you can make a scene that draws a crowd. The AirTurn STOMP 6 lets you control it all on stage with OnSong.
Limitless Possibilities
The AirTurn STOMP 6 gives you six rock-solid switches to obey your every whim.
That might not seem like much, but assign 40+ actions to those pedals in OnSong and
you can do everything you need while never breaking from your audience. Use triggers
to perform multiple actions with one stomp, or shift into a higher gear to surpass your
physical limitations. OnSong and STOMP 6 is the perfect combination for performers.
If you have questions about the AirTurn STOMP 6 or how to use it with OnSong, please watch our tutorial video found here: http://onsongapp.com/videos/tutorials/airturn-stomp6
Here are some Frequently Asked Questions (FAQs):
CONNECTIVITY:
Q: Will the AirTurn STOMP6 work with my device?
A: The AirTurn STOMP 6 uses the BT-106 wireless module which is compatible with nearly every Bluetooth-enabled device on the market.  It will work with any iOS device including the original iPad 1.
Q: What is the range of the foot pedal from my device?
A: While you would normally use the STOMP 6 within close proximity of your tablet or computer, the STOMP 6 can work up to 33 feet away.  You may get better range than this under optimal conditions.
Q: How do I pair the STOMP 6 to my device?
A: The AirTurn STOMP 6 pairs like most other Bluetooth devices through your device settings screen.  You can reset the pairing of the pedal by pressing and holding the red button on the top of the device for 8 seconds until the LED indicator light flashes red and green alternately.
Q: Can I use a AirTurn STOMP 6 with multiple devices?
A: Not at the same time. Bluetooth devices pair with one host at a time.  You could need to reset the pairing of the device to connect to a different host.
POWER:
Q: How do I charge the AirTurn STOMP 6?
A: Unlike other AirTurn products, the STOMP 6 runs on a standard, 9V battery. This is the industry standard for powering guitars so you're likely to have one in your gig bag.  AirTurn includes a 9V battery with purchase. You can optionally plug into a 9V power source that has a center negative polarity. But remove the battery first if you go that route.
Q: How long does the AirTurn STOMP 6 last on a charge?
A: When running on a standard 9V battery, the AirTurn STOMP 6 lasts about 100 hours after initial testing. However, if you plug the AirTurn STOMP 6 into standard 9V pedalboard power, the internal 9V battery is bypassed for longer life.
Q: How do I change the 9V battery?
A: Remove the bottom panel of the pedal by unscrewing the six screws.  The battery is held in place with a clip and is easy to replace.
Q: Can I use a rechargeable 9V battery instead?
A: Yes, however battery life my differ based on discharge rates and internal battery chemistry.
DESIGN:
Q: What is the AirTurn STOMP 6 made out of?
A: Aluminum. It is designed to be lightweight and compact, but robust too.
Q: Is this pedal silent like other AirTurn foot pedals.
A: No. The AirTurn STOMP 6 is designed for stage use so it's not completely silent.
Q: What kind of switches does the AirTurn STOMP 6 use?
A: The AirTurn STOMP 6 has six, stage grade foot switches.  They are expected to last a long time.
Q: If one of the switches goes bad, what do I do?
A: In the unlikely event that a switch stops working because it's "well loved", please contact AirTurn support for assistance. The AirTurn STOMP 6 is designed to be user serviceable so if you're handy with a soldering gun, you can easily replace the switch if you need.
OPERATION:
Q: How do I turn on the AirTurn STOMP 6?
A: Press and hold the red button on the top until the green light flashes.
Q: How to I turn off the AirTurn STOMP 6?
A: Press and hold the red button on the top until the red light blinks twice and then release.
Q: Do I have to bend over to turn my AirTurn STOMP 6 on and off?
A: No. The AirTurn STOMP 6 button is designed to be activated with your heel. This allows you to control the AirTurn STOMP 6 without accidentally turning it on or off during operating.
Q: What software works with the AirTurn STOMP 6?
A: The AirTurn STOMP 6 works with hundreds of apps on the iTunes App Store such as OnSong. Since it interacts with operating systems as a computer keyboard, you can use it in other programs by mapping key commands. The AirTurn STOMP 6 has multiple modes that allow it so work in many programs you use.
Q: What can I do with the AirTurn STOMP 6
A: It's really up to you and the software you are using. Apps like OnSong feature over 40 actions that can be mapped to the six switches. Other apps may be limited to just turning pages. Contact your app developer for more details or to request full support of the AirTurn STOMP 6.
Q: I can't get the keyboard to show on my iPad or iPhone. Why?
A: Because the AirTurn STOMP 6 connects as a computer keyboard, iOS hides the on-screen keyboard.  You can show the on-screen keyboard by pressing the red button when you have a text box up.  Once the keyboard appears, you can continue to use the on-screen keyboard and the AirTurn STOMP 6 simultaneously.
Q: Will this run on my iPad, iPhone or iPod touch?
A:Bluetooth devices can run on all iOS-enabled products.
Q: Will this run on my Android Tablet?
A: Yes, as long as your Android tablet supports Bluetooth 2.1 or higher.  Some less expensive devices do not include a Bluetooth antenna.
Q: Will this run on my Mac or Windows?
A: Yes. You would connect it via the Bluetooth settings screen just like a computer keyboard.