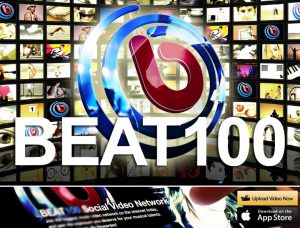 The BEAT100 community is rapidly growing. With a global reputation of being a safe, happy and friendly online environment for all users. Your videos can be added to the BEAT100 video network and the Music Video Chart directly from YouTube.
Within just a few minutes you can be signed up, connecting and sharing your music with the worldwide BEAT100 community. We are the only social network which thrives on giving our users the oppurtinity to be seen, heard and rewarded all in one place.
BEAT100 is completely free and the only social network that rewards it's users. Our experienced promo team are here to help you get your music out to the world and climb your way to the top of the BEAT100 chart. With over 75,000 unique visitors checking the site out each month and over 2 million videos views each month, BEAT100 have created a unique and entertaining platform to get your music out there to the world.
Features that may be beneficial for you:
• Fast & Easy to sign up (use Twitter / Facebook for quick sign up)
• Enter the BEAT100 original or covers music video chart (audio coming soon)
• Gain Exposure (enter our music chart and climb your way to the top, or simply add your videos to our ever growing Network)
• Make new friends (meet other musicians, producers, videographers, music lovers, photographers and many more that can further your musical career)
• Expect increase in Twitter followers & Facebook likes by adding your links when creating your profile on Beat100
• Prizes for winning the charts (check out the prize pool)
• BEAT100 Live shows (there's no greater reward than performing at a BEAT100 live showcase, details to be found on the site)
• Post your upcoming Events (widen your audience by inviting new friends and fans to yours shows)
• BEAT100 Records & BEAT100 Publishing
• Press Releases
• Fast Growing Network, the time to join is now
•Receive Beat100 Awards (performance, song, video & favourite)
Thank you for your time and feel free to message us if you have any further inquiries or questions about BEAT100 and I will get back to you as soon as possible.
Kind regards,
Ben
iPhone App : THE BEAT 100
www.beat100.com | @BEAT100Network |
Tutorial http://www.youtube.com/watch?v=JpNSZ_a-pss
Upload > Share > Connect