Engage Your Stage
By Ryan Patrick Imming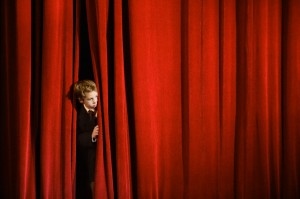 You've got your well-crafted original songs in tip-top shape. You've learned a selection of covers that are sure to impress, maybe an Ironic boy band/or hip hop song that you'll do acoustically, or totally rock it out, whichever way, it'll be sweet because it's your unique style. Your band is tight, super tight, you've been rehearsing for months and you're ready to unleash your musical prowess on the masses. You've got Twitter & Facebook a blaze with just the right amount of self promotion. Boom, you'd say this show is going to be epic, but you're not that lame, you just know it's gonna be great.
There is a checklist a mile long of things that bands and singer songwriters go over and over while preparing for a show, but one thing that often gets overlooked is developing stage presence. It's a tough one, because there's only one true way to develop stage presence, and that is to be in front of people, real people that aren't your friends, families, girlfriends, boyfriends etc…. and learn how to carry yourself in front of an audience.
More than 10 years ago now, I was green, really green. I had a band that was made up of a few fraternity brothers and friends from the University of Missouri, where we all were students. We had started playing bars around town & then we graduated to travelling to Illinois, Kansas, Indiana, etc… playing fraternity parties, colleges, etc…
We got the opportunity to open for some amazing National acts and I was certainly star struck every time. One night in particular stands out. If you want to impress a 20 year old aspiring rock star, a good way to do it is to invite him & his band onto your tour bus before you let them open in front of you to a sold out 1000 person crowd in their home town. We were opening for Jackopierce at The Blue Note in Columbia, MO, they were huge at the time. For you younger people, they were doing what Corey Smith is doing now, and O.A.R. before him. They were selling out 1000 seaters at will with no radio play, strictly word of mouth, which was even more impressive considering this was the 90's, pre facebook, pre myspace, pretty much pre-email. That night was magical, and I know this is a long way to get to my point, but one thing that I'll never forget is when I asked Cary for any advice he said, "Play anywhere, everywhere, for anyone, all the time."
He couldn't have been more right. Musicianship, songwriting, etc… is very important, obviously, but what's equally as important is your ability to connect with an audience. That can't be taught or rehearsed, it has to be learned, plain and simple. And the only way to learn it is to do it, and do it and do it. Hang around comedians long enough and you'll hear the term "stage time." They know that they have to get comfortable on any stage, in any situation.
I've been lucky enough to make my living playing music for over 10 years now. I do between 150-200 shows a year, and a lot of them aren't sexy. They're at bars, where people are more interested in the drink special than who's playing music at the beginning of the night. One of the most important things that I've learned is how to read and connect with an audience, any audience. Whether I'm playing at a resort town at 2 in the afternoon, a college bar on quadruple well night, or with a regional or national act in front of 1,000 people I'm comfortable now. I always tell younger bands that playing bar gigs is like swinging a bat in the on deck circle with a weight on it. It's work, it's still fun of course, but it's work, and what's more, it's important work. You have to work to read your audience and determine how to connect with them. If you can do this at a bar, or a college cafeteria, street festival, etc.. you can do it anywhere, I promise you. Playing a ticketed show is when you take the weighted ring off the bat, step up to the plate and knock it out of the park. Now you're on a comfortable stage with great light and sound and a crowd that PAID TO BE ENTERTAINED, and you're ready to give them what they want, which is an experience that can't be packaged and sold, it can only be remembered. Now get out there and give someone a show, whether they ask for it or not.
www.rpimusic.com
twitter.com/rpimusic
facebook.com/rpimusic
youtube.com/rpimusic
soundcloud.com/rpimusic
1. A book I would recommend: Excuses Begone! By. Dr. Wayne W. Dyer
2. Favorite piece of gear: Boss RC-50 Loop Station

3. One thing I can't live on the road without: I-pad
4. Who am I listening to these days: Lori Mckenna, Mary Gauthier, Darrel Scott
Ryan has played over 1700 live shows since quitting his "real job" in 2001 to focus solely on music.  In doing so he has played in every imaginable setting, audiences ranging from 25 people to 5000 people.  He has shared the stage with a wide range of national touring artists including Dave Matthews & Tim Reynolds, Sheryl Crow, The Zach Brown Band, The Dan Band, Hello Dave, Michelle Branch, Umphrey's Mcgee, Better Than Ezra, Cowboy Mouth, and more.  Ryan's show suits his venue.  Since he is a solo artist he caters his set to the venue he is playing. If he is playing in front of a national touring act for a short amount of time he will play all originals, if he is playing a "long set" at a college event, corporate event, fraternity party etc….you can expect to hear his original songs mixed in sparingly with cover songs from a wide range of artists including Johnny Cash, Paul Simon, Snoop Dogg, U2, and Govt. Mule.