Katie Ferrara is a folk/pop artist from Los Angeles, CA. Making regular appearances on the 3rd street Santa Monica Promenade, Melrose Trading Post, downtown Burbank and various farmers markets in Los Angeles, Katie has carved a name for herself in the streets of her hometown as a "busker" or street performer.
Becoming known in LA is only a small piece of the puzzle Katie has created for herself. Free spirited, ambitious and self-reliant, she travels the world through music, writing about her experiences in song form. She has toured nationally to festivals including SXSW and internationally to several countries including the UK, Italy, and New Zealand. Katie's talents were discovered in 2015 in the "Feeling the Street" competition after being selected as one of the winners on Facebook. The online show, sponsored by Toyota, is a global search for the world's best buskers who must band together to make music on an epic road trip.
Katie's voice has been compared to artists such as Jewel and Natalie Merchant and Norah Jones and her songs have a charming yet sultry quality about them that sooth and relax the listener. Her latest release called Dream Catcher, is available on iTunes, Spotify, CD baby and most online retailers.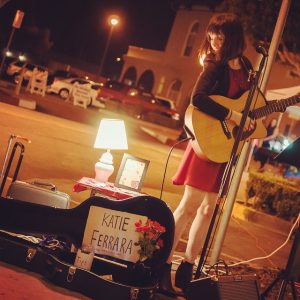 How long have you been busking and what motivated you to start?
I have been busking for 3 years now. I started for many reasons. The first being that I felt like I wasn't going anywhere with my music career and needed to do something differently. I used to play a lot of shows on the sunset strip in Hollywood where I would have to sell tickets for people to come see me. I got sick of not making any money and struggling to get people to come out. When I started playing in the street, I immediately was tipped by people passing by. I didn't have to beg my friends and family to come out and see me play. People bought my CDs and followed me on social media. I never had this experience playing shows in Hollywood clubs. Because I was making money doing something I loved, I just kept doing it to support myself.
The second reason I started street performing was because I wanted to meet people and make connections with fans who appreciate my music. When I started busking, I met a lot of families, kids, young people, old people—just about anyone. I didn't have to go through a promoter or booking agent to play a show. I could set up wherever I wanted to and play to people for free. It's been a great way to get to know the communities I visit because I can come on a regular basis to different busking locations and get to know the people who listen to me.
The third reason I started busking is because I wanted to find a way to travel and see the world while still being able to support myself. I had thought about getting a certificate to teach English as a second language and (I still might go and get one) but then I thought that perhaps I could try traveling through my music. When I first started busking in LA, I played at the Santa Monica Promenade, then I branched out to different farmer's markets and started saving money from my gigs. Then I booked a west coast tour to Seattle and busked along the way to pay for gas and travel expenses in between venue gigs. Last year was a dream come true for me in that I could travel to Europe through busking. In August, I flew to Italy to perform at the Ferrara Busker's Festival. I was able to pay for my plane ticket and make money through selling my CD's and merch at the festival. I don't think many people know about all the great busking festivals there are in the world. I've done research and found festivals in Canada, Australia, Scotland and Switzerland. What I like about these festivals are that people appreciate music that is unique and want to support artists. People come out to these summer festivals to find music that they can't get on Spotify or online streaming services. I also just think it's cool to have fans all over the world!
What is your ideal busking setup?
Over the years I learned that it's best to have a set up that is very lightweight and easy to transport. I used to have a very elaborate display with LED lights, a lamp and flowers, and then it just became very cumbersome to set up every time I wanted to play. I also carried around a heavy hard-shell guitar case and mic stand on top of all the other gear I would bring to busk. The more days I would busk each week, the more tired I became.
Now I carry a lightweight guitar bag on my back made by a Swiss company called Ritter, in my hand, I carry the AirTurn Go Mic Stand, and on a cart, I put my amp and a small bag for cables, merch, and my sign. I also bring a bucket to use as a tip jar. Sometimes I just leave my amp on my cart in case I need to move to a different spot. Ideally, it would be nice to be able to have a grand display every time I perform, but I tend to save this type of set up for larger events like street fairs or wine walks. Having lightweight gear is perfect for musicians who like to travel. When I played in Europe last year, for example, I transported my entire busking setup in my suitcase!
What advice would you give to your busking self five years ago if you could travel back in time? 
If I could travel back in time to when I first started busking, I would have told myself to stick it out in one location. When I first started busking in Santa Monica, I felt like there were too many performers. There was competition for spots and sometimes I would set up and not be able to hear myself because of a performer down the street. I think the great thing about staying in one place is that you get to know the community you are in. When you are a regular performer, people want to get to know you. You also have to find ways to keep people engaged with your music if you see the same people over and over again.
You represent a few awesome brands. How did you get started with your endorsement deals?
I am endorsed by Mackie, Air Turn, Beat Buddy, TC Helicon. Most of these deals started because I wanted to tell my friends how much I love using their equipment. I like to promote these brands through videos on YouTube and Facebook and through posting pictures on Instagram.
I received an endorsement from Mackie after sending them a video I made of myself busking in Burbank. They asked me if I wanted to try their new "Free Play" amp for my gigs and told me that if I liked it then they would do a story on me. Now I use both amps for my busking gigs. I especially like the Freeplay because it's lightweight, and I can take it on a plane. It runs off a lithium battery and lasts 10 hours.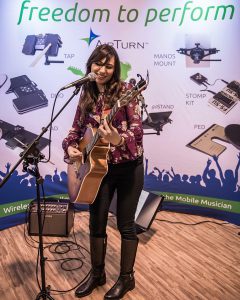 The endorsement with AirTurn happened when I was busking outside of NAMM last year. It was a Sunday afternoon and some of their representatives were walking outside the Anaheim convention center. They noticed that I was using their mic stand and then sent me an email saying that they wanted to do an article on me. This year they asked me to play at their booth!
I started my relationship with TC Helicon after being involved in doing shows with Planet LA Records. They put on a summer showcase of artists at Whole Foods locations in LA to raise awareness of the Whole Planet Foundation. I started talking to a TC helicon representative at these shows and explained that I wanted to use the Play Acoustic Pedal for busking. I said that in exchange for the pedal, I could make a high-quality video of an original song featuring myself using the harmony and looping functions. I also said that I would give them shout outs on social media when I use the pedal at my gigs.
My Beat Buddy endorsement started because a friend had referred me to the company as a performer. They gave me a free pedal in exchange for a high-quality video of myself playing a song and highlighting it's different functions. The video is up on YouTube and has one of the most views on their channel.
What artists are you listening to these days?
I just started getting into some folk playlists on Spotify and discovered an artist called Phoebe Bridgers. I love the lyrics to her songs, especially a song of hers called "Ask Me To" aka "Steamroller". The song is about how hard it is to fall in love with one of your best friends and not wanting to mess up the relationship. I just like how honest she is in this song. I also love listening to the Weepies, and Tina Dico. I like listening to the strength in Tina's voice and the dreamy production of the Weepies albums.
Checkout Katie Ferrar's website HERE