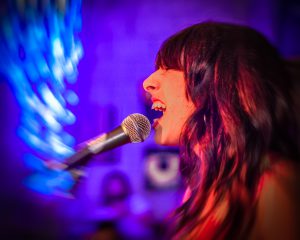 How to Perform on The Santa Monica Pier with Katie Ferrara
The high foot-traffic of the Santa Monica Pier makes it one of the most sought-after locations to street artists and musicians in Los Angeles. Each day musicians, painters, dancers, and fortune tellers to take part in a lottery system for a chance to win a spot on the pier and make some big money selling their craft to passerby's. To some, it may not seem like a glamorous profession, but to the hard-working performers, the pier is their bread and butter for the week.
In this video, local singer/songwriter and experienced busker, Katie Ferrara gives us her tips and tricks about how to perform on the pier. Like most places in Santa Monica, it is required that street performers obtain a permit from the city hall which costs $37 with photo ID. On the pier, performers must arrive at the Carousel during any 4 times of the day (9am, 11am, 2pm, and 5pm) to participate in the lottery. If a performer is selected from the system, they can choose a designated slot on the pier which allows them to play from up to 3 hours without having to move. The playing times are (10-1pm, 1-4pm, 4-7pm, and 7-midnight). There are perks to playing in the evening because performers have a longer time slot, the only downside is that it gets very cold and windy on the pier, even in the summertime-so make sure to bring a jacket!
If you are a musician hoping to try busking or are simply are traveling to LA and want to experience some of its attractions, watch this video to learn how to participate in the street musician community.
Katie Ferrara is a folk/pop artist from Los Angeles, CA. Making regular appearances on the 3rd street Santa Monica Promenade, Melrose Trading Post, downtown Burbank and various farmers markets in Los Angeles, Katie has carved a name for herself in the streets of her hometown as a "busker" or street performer.
Becoming known in LA is only a small piece of the puzzle Katie has created for herself. Free spirited, ambitious and self-reliant, she travels the world through music, writing about her experiences in song form. She has toured nationally to festivals including SXSW and internationally to several countries including the UK, Italy, and New Zealand. Katie's talents were discovered in 2015 in the "Feeling the Street" competition after being selected as one of the winners on Facebook. The online show, sponsored by Toyota, is a global search for the world's best buskers who must band together to make music on an epic road trip.
Katie's voice has been compared to artists such as Jewel and Natalie Merchant and Norah Jones and her songs have a charming yet sultry quality about them that sooth and relax the listener. Her latest release called Dream Catcher, is available on iTunes, Spotify, CD baby and most online retailers.
*Photo by Ed Ziehm