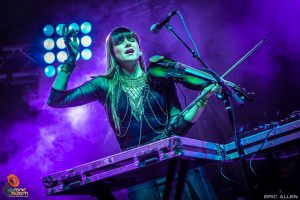 "If you don't know who HÄANA is, you need to discover her. She was one of the most talented individuals I came across all weekend [at Lightning in a Bottle Festival]. Dressed in a black and gold dress, with a gold cage headpiece, HÄANA sings live, mixes live, and plays the violin live. Her nordic inspired tunes, combined with her ethereal voice and the twang of her violin create a uniquely magical sound. The beauty of her music is something that should not be overlooked and is something that everyone needs to experience at least once." -FRESHCLEF
---
THIS. IS. HÄANA.
Los Angeles-based sound artist HÄANA has been featured in Vogue, and special appearances include opening for The Rolling Stones with Kanye West, performing for Michael Jordan's wedding, and for President Obama's Inaugural Ball. Her original music utilizes cutting edge electronic sounds, and she counts Massive Attack, Björk, and Trentemøller as influences in crafting her production. The resulting sonic palate takes listeners on a journey whose destination is a crossroads between classical and contemporary, organic & man-made, familiar and mysterious. HÄANA has shared the stage with numerous musical giants (Bassnectar, MOBY, The National, EOTO) & appears on releases by Irma Thomas, Beats Antique, Random Rab, An-Ten-Nae, Desert Dwellers, Dimond Saints, among others.
"Sonic stardust." (Vogue) "Rather breathtaking." (Clash) "Luminous frequencies & violin instrumentation tied with foreign Icelandic lyrical messages are found in her voice…" (Afro Monk) "It has the ability to seep into your soul in ways only orchestral & electronic music can." (Infectious Magazine) "Majestic" (Nothing But Hope & Passion)
HÄANA is also deep in the yoga/music/meditation scene, and performs her original orchestral and intuitive scores at numerous yoga festivals and studios around the world, including US and Canadian Wanderlust Festivals, collaborating with lauded teachers Elena Brower, Seane Corn, Shiva Rea, Eoin Finn, Aarona Ganesan, Jill Knouse, and many others. She facilitates meditation experiences with her project DEEPSØNØS.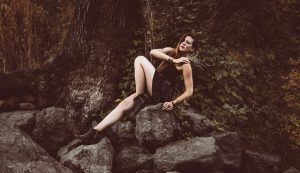 What is your music background?
I started playing violin when I was three with the Suzuki method. My mother taught me piano. Growing up, I performed in symphonies and orchestras with both violin and French horn. My undergrad degree is in languages: German and Spanish Studies: I studied in Germany for a year, and Spain for close to a year. When I was 21 living in Granada, Spain, my whole life's path unfolded by the simple act of someone stealing my wallet. I was catapulted into overcoming my stage fright and shyness, and I put on a costume to go perform on violin at an outdoor terraza at a restaurant nearby where I lived in the Albayzín (the old Arab district), to serenade the guests with sweet strains of romantic music. And was gratified monetarily, handsomely so. It was validating. And thus I would play every evening at a few of the restaurants in the area. Met a dancer Sophia from Barcelona, and we started performing together: her art a mixture of flamenco, mime and ballet. She inspired the music I composed and I her. And I've been composing and producing and performing with dancers ever since.
Prior to my solo project, I had a band Copal and an electronic project Nyxyss. Simultaneously, I was the managing editor for a big photography magazine, as well as an event/fashion/portrait photographer. At the time, I couldn't see how it would be feasible to support myself solely on music, as I was playing mostly club gigs and small-ish venues with Copal, the occasional festival as well. Once I left the photo magazine, I decided to shake things up with a trip to Iceland with my dear friend and yoga teacher Aarona on a yoga retreat as the photographer. I stayed an extra week on my own, and had such grand adventures exploring caves, fissures between tectonic plates, and meeting musicians. I became immensely inspired by the music and the energy and culture of Iceland, and once I returned to NYC, I studied electronic music production at Dubspot (6-month Logic producers course). During this class, I landed a gig at the Hammerstein with Shpongle Live and Phutureprimitive. It was a sold-out show, and the very first time I performed solo. I was pretty nervous, but the crowd erupted into a standing ovation (if they weren't already standing) after my performance. That moment was pretty pinnacle for me. I was still figuring out my sound and vibe, but I knew I wanted to tour solo from that moment on. And since then it's been nonstop! I've been touring festivals in the US, Canada, and internationally as well. This year, I played Coachella, which was a next milestone for me.
Why do you use Logic over Ableton to produce your music?
I use Logic to produce, and Ableton to perform my music. IMHO, Logic is a great tool for people producing with real instruments, although that gap is narrowing between Logic and Ableton. I prefer to write with MIDI and refer to a built-in scoring feature, rather than draw in squares. I also track my violin with a DPA mic, as it's my primary instrument. I hear melodies and can emote easier using violin tracked directly into Logic. Also, it's rather easy to finalize sheet music for other collaborators (i.e. my string trio) to record on my tracks using Logic.
After the last three years as a solo musician, what would you tell yourself three years ago to better prepare yourself for the future?
I would have started my solo project sooner! And quested for partnering with someone straight out of the gate on branding concepts, and also jumped on opportunities faster, with less self-doubt. I could have used some help from a manager that believed in me and stayed true to my voice while working a variety of events. I was fortunate to play Michael Jordan's wedding and President Barack Obama's Inaugural Ball. These and so many more opportunities allowed me to diversify my music while earning a living from music full time, and making as many connections as possible.
Are you releasing new music anytime soon?
I have a five-track EP "SALT" coming out early in 2018. I incorporate lots of strings: violin, viola, cello (a guest violist and a couple of guest cellists), acoustic guitar, bass guitar, piano. I also use sounds I recorded in my travels, to merge the sonic gap between digital and analog/organic. The tracks are called Ink, Gold, Sand, Salt and Snow–very elemental. My process is a little convoluted and different with every track. My general process is: I come up with a song idea, write the lyrics and go to the string compositions before filling in the spaces. I use Reaktor, Massive, and Logic's synths to create bass textures via synthesis, oscillations, EQ, and wobbles. Often, I'll create harmonies with my violin.
Name two artists that inspire you.
Ghostly Kisses: Her voice is gorgeous. It's moody and down tempo but she keeps me company on my walks, and plays violin as well.
HÆLOS from the UK: KCRW in Seattle introduced me to their song "Dust." I look for bands with female vocals that show their real, natural, beautiful voice, and this band does an excellent job with their moody textures and gorgeous female lead vocals.
I know you said two, but I have a third artist I'm loving right now: Zola Blood. Very moody, gorgeous male voice, and danceable too.
Last words.
Be ready: you never know where life will take you! Seize the moments and consider the legacy you are leaving behind. And live with no regrets.
*photos: Sequoia Emmanuelle & Marisa Pfenning
http://thisishaana.com
http://facebook.com/thisishaana
http://instagram.com/thisishaana
http://twitter.com/thisishaana
http://soundcloud.com/thisishaana