HÄANA to perform at Arise Music Festival 2017.
Los Angeles-based sound artist HÄANA has been featured in Vogue, and special appearances include opening for The Rolling Stones with Kanye West, performing for Michael Jordan's wedding, and for President Obama's Inaugural Ball. Her original music utilizes cutting edge electronic sounds, and she counts Massive Attack, Björk, and Trentemøller as influences in crafting her production. The resulting sonic palate takes listeners on a journey whose destination is a crossroads between classical and contemporary, organic & man-made, familiar and mysterious. HÄANA has shared the stage with numerous musical giants (Bassnectar, MOBY, The National, EOTO) & appears on releases by Irma Thomas, Beats Antique, Random Rab, An-Ten-Nae, Desert Dwellers, Dimond Saints, among others.
---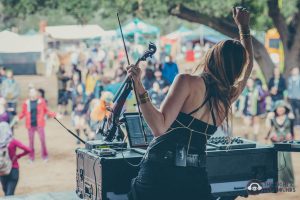 HÄANA will be performing at the Arise Music Festival: Saturday, August 5th, 6:50-7:50p on the Green Tree Stage.
She will also be doing her DEEPSØNØS full-spectrum sound meditation workshop on Saturday 9am in the Big Sunrise Dome
---