---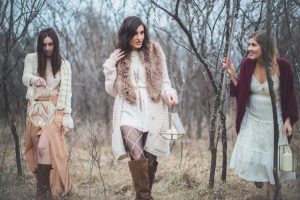 Kansas City, MO– OLIVIA FOX, a folk/pop female trio consisting of Kansas City natives Lauren Flynn, Tiffany Smith, and Aubrey Callahan, released their music video "Wood Panels & Wine" directed by Shawn Gormley.  After dropping their debut self-titled EP on June 2, 2017, OLIVIA FOX has taken the next step in their career with their first music video.
Regarding this recent milestone, the band's singer, keyboardist, and percussionist Aubrey Callahan says, "It's important for us to have a continuous presence on social media and powerful and professional video content.  We are so thankful for Shawn (Gormley), Clayton Kruger, and all the guys who helped make 'Wood Panels & Wine' an incredible experience and a beautiful finished product." 
Why was it important for you three to have a manager and how did you choose yours?
It allows us to just focus on the music and creative aspects of the band.  It keeps us on a timeline and accountable for our goals. Ideally, you want a manager who you not only respect, but who reciprocates that same respect as well. A manager who knows the order of steps for your career (photo shoots, videos, recorded music, etc) and who has access to the right connections, is very helpful in opening doors or creating opportunities we wouldn't otherwise have. It's very important for your manager to believe in your music as much as you do.  Without our manager, we wouldn't be where we are at today. We chose our manager because not only has he been a touring artist previously, so he knows what our next step is (always before us), he's also a friend and we actually enjoy being around him for countless hours of practice and meetings.
Is branding important to you?
Branding is very important and becomes increasingly important in a highly saturated industry. It offers a visual representation of who we are as a band and allows our audience to get an idea for what our sound is. We spent a great deal of time considering a name and a logo. We wanted both to remain somewhat simplistic as our sound is heavily based on raw harmonies and simple instrumentation. When planning for photo/video shoots we carefully discuss lighting, wardrobe and the setting so that we can capture the vibe of what we're promoting.  The three elements we identify as being most important to branding in 2017 is image (online presentation), sound, and stage performance. We want all of those three components to come together as one so that our image pairs with what we feel our sound "looks like". 
Can you share some of your musical influences with us?
Lauren– Brandi Carlile. Her songwriting and storytelling really touches my soul. I see her live every chance I get, and am equally impressed with her as a person as well as a writer.
TIffany– Grisly Hand– They have beautiful harmonies and so much fun to see live. And they are from Kansas City and I like to support local music.
Aubrey– This literally changes every week, but I've been listening to James Arthur a lot lately. He's got sweet melodies! I just got to see him live recently and he's just as great live! I love when musicians can put together just a s great a show