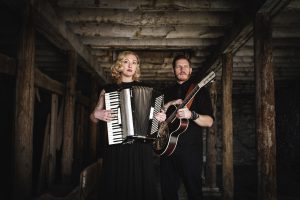 Born in New York City and raised in Boulder, Colorado, The Fremonts weave Midwestern ghost stories into restless Americana music. Stephanie Dodd (originally from Fremont, Nebraska – vocals/keyboard/xylophone/accordion) and Justin Badger (originally from Fremont, California – vocals/guitar/kick drum) lace their sound with bluegrass, country, blues, folk and indie pop influences. By blending Dodd's lyrical voice and Badger's turbulent style, they take on a range of topics from sprawling tales of escape and ambition to quiet disenchantment with traditional roles in American family life. In their three years of creating music together, The Fremonts have unearthed fresh authenticity in their writing and performances through dedicated practice and community building.
The Fremonts took a long break from their day jobs this year and independently released a new album and booked a three-month tour through the Midwest out to New York city and back. They shared with us who inspires them, how they inspire each other and what they've learned about taking their music careers into their own hands.
Every live performance we've heard is next to flawless. When you do have mistakes happen in live shows or something goes wrong, what is your best advice on how to handle it? 
JUSTIN:  In the moment, I think you just have to keep going or make some kind of a joke about it.
STEPH:  You want the audience to feel like you're taking care of them and that if mistakes happen, you'll make it okay.
JUSTIN:  We also record every show and watch it the next day to take notes and try to do better next time if there are mistakes.
STEPH:  The other thing we've learned is how much we're at the mercy of the person running sound.  Just last night, I was having a really tough time hearing my keyboard at the top of the show and I let myself get distracted by it and totally blew it on a solo.   We're still learning how to negotiate that relationship in new venues, especially when you only get a quick line check before you start playing.
How do you take care of your voices and overall well-being on the road? 
STEPH:  I'm trying to convince Justin that we don't need to talk to each other on show days.  However, he hasn't learned that lesson yet and he keeps talking to me and getting mad when I don't answer.   But we're working on that.   We're pretty good gym rats and find a place to work out every day.  We eat as well and simply as possible, no fast food.   We sleep as much as we can. It's also about taking care of my personal steamer that I bought at Walgreens.  I love my accordion and my keyboard, but my voice is my most important instrument by far and that steamer really helps me out.
What have you learned in the studio that you can't wait to take to your next album?
STEPH:  We were really working on our musicianship last time in the studio, tightening up tempos and tuning our harmonies, finding more confidence in our voices and those tools will definitely help us with the new album.   We also spent a lot of time building up relationships with our engineer and producer.  I mean, now those guys are like our brothers, so we'll definitely be working with them to develop the next album.  Relationships are precious in music and those bonds don't come easy.
What do you need to focus on the most to be happy playing music as much as you do?
STEPH:  There are certain moments in performance when we're really clicking with the audience and they're really enjoying it and Justin and I are super connected and we know it's going well and there's so much joy in that.  Obviously, those moments don't happen all of the time, so when they do I feel like it's really important to SOAK EM UP!  And then when it doesn't go as well or when we make mistakes, we analyze what happened and try to fix it, but we have to forgive ourselves and move on.
JUSTIN:  Yeah, it's really important to let it go. Don't stew on it for too long.
What was the hardest part about booking shows as independent artists in new cities? 
STEPH:  I mean, you can do as much research as you want to online, but if you've never been to a venue it's hard to know if it will really be appropriate for you. I loved the process of booking this tour.  It was like putting together a big puzzle, but the unknowns were pretty hard.
How will you do it differently for the next tour? 
STEPH:  You know, the smaller towns we've played out here have been so awesome and the experiences in more rural areas have been especially joyful.  In general, rural people just don't get enough credit for how much they cherish music and storytelling. Next time, I'll book more shows in smaller towns and at community events and at private house parties. I'll still book us in big cities, but only in great listening rooms on weekends. I also think summer is a particularly hard time to tour, unless you're doing festivals.  It might be easier to pull audiences in when the weather isn't so beautiful.
How do you challenge each other? 
JUSTIN:  Well, Steph is always pushing me to work harder because I tend to be lazy. I can be petulant about it and I need to be pushed to work harder to keep getting better. We're starting to be able to push each other to dig deeper with our writing, but we haven't mastered that yet.  It's still a pretty sensitive area.
STEPH:  This is a really tough question because I know how Justin challenges me, but it's really hard for me to accept his challenge.  I can get really hyper-focused and rigid and kind of anti-social and Justin pushes me to lighten up and sleep in occasionally or watch an extra episode of tv now and then.  I thrive on working hard and pushing myself and it's really hard for me to find contentment in just relaxing.
What inspires your songs and how do you capture them during the writing process? 
STEPH:  My songs are mostly inspired by conversations or little snippet of something I hear or read.  I usually write along themes of things that I'm working through in my own life, but I'm constantly capturing and absorbing things from the world and other people.  I try to write those things down or record the ideas as quickly as possible, because they are very fleeting.  Free form writing for pages and pages also helps me get to some ideas, although I throw most of it away.
JUSTIN:  My songs very rarely come from a personal place. I'm always writing songs about other human beings and their experiences.  It's a mixture of fiction and non-fiction characters. Sometimes I'm inspired by the news or a book I'm reading. Thank god for voice memos on my iPhone because it's really easy to record a quick little melody and just keep it there.  I might not come back to it for six months, but it's still there.
What would you tell yourself 5 years ago if you knew what you know now about the music business? 
STEPH:  We were in the theatre business 5 years ago, so…
JUSTIN:  Yeah, we still don't know all that much about the music business. But I do wish I could tell myself to start playing music earlier. Steph and I have been working on music in this form for the last three years and I wish we had more time under our belt.   I guess I would have told myself, "Get out of the theatre business!"
Who are some of the artists or bands you are listening to now and why do they inspire you?  
STEPH: The Secret Sisters – They represent my ultimate harmony goals for Justin and me.  I grew up singing with my sister and our voices were so similar that it was really easy to make beautiful harmonies.  Justin and I have super different voices.  His is much brighter and louder and mine is much more lyrical, so we always have to resolve that tension between our sounds to come into true harmony.  Listening to The Secret Sisters inspires me to do that work.  And the hard work is worth it.  There's nothing better in the world than great harmony.
JUSTIN:  Sturgill Simpson – I feel like I end up listening to his new album every day because he's reclaiming country music from that beer-can-crushing, truck-driving, man-who-did-me-wronging stuff and writing really beautiful, thoughtful lyrics and incorporating a lot other genres into his music.
STEPH:  The Deer – I'm super inspired by this band out of Austin.  They have sort of a folk sensibility, but they bring in this gorgeous, intricate instrumentation to their storytelling.  They're just really interesting musicians and they inspire me to push our arrangements, melodies and chord changes into new territory.
JUSTIN:  Radiohead – I'm always going back to Radiohead.  Steph comes from a lyrics first place with her writing and I always come from a sound first place.  Listening to Radiohead is a good reminder of what is possible in terms of pushing the boundaries of making sound while still making music that is largely catchy and appealing to a lot of people.
https://www.thefremontsmusic.com/
https://www.facebook.com/TheFremonts/