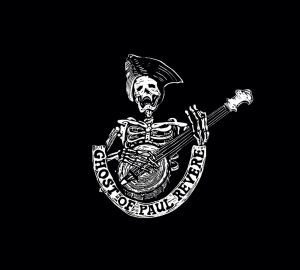 Meet Ghost of Paul Revere: Born on the banks of the Saco River, brothers in all but name, the Ghost of Paul Revere is Maine's holler-folk band. A powerful, energetic, non-traditional American folk band that's renowned for harmony fueled, heart-pounding performances full of songs with unique identities that remain undeniably the Ghost of Paul Revere.
Formed around childhood friends Max Davis, Sean McCarthy, and Griffin Sherry, the Ghost of Paul Revere played their first show together in 2011 at a tiny bar in Portland, Maine. Now, they play across the nation, bringing holler-folk into houses, bars, and music halls. They have shared the stage with the Avett Brothers, The Revivalists, The Travelin' McCourys, Brown Bird, Spirit Family Reunion, Darlingside, as well as members of Greensky Bluegrass, the Infamous Stringdusters, and Old Crow Medicine Show.
Their critically acclaimed, Billboard charting full length album Believe, as well as their two EPs North and Field Notes Vol. 1, have continually been the top selling local albums in Maine and New Hampshire for more than four years. The Ghost of Paul Revere has since sold out Port City Music Hall, Stone Mountain Arts Center, and the Strand Theater multiple times, won Best In Maine at the 2014 New England Music Awards, were an official showcase artist at Folk Alliance International 2015 and made their Newport Folk Festival debut in August 2015. They capped off 2015 with an electrifying headline performance on New Year's eve at Portland's State Theatre in front of 1,600 enraptured fans.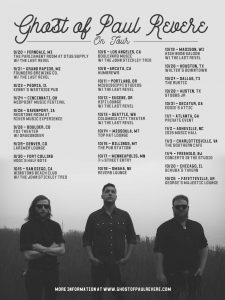 "Simply put, this band is one to see live… A gorgeous blend of bluegrass, folk and good old fashioned rock and roll… their performance takes on a boot-clacking brilliance that transforms each song into a full-on participatory event, sending an electric surge about the room that's near impossible not to feel. Add to that a layered three part harmony coursing through each soulful song, and The Ghost of Paul Revere demonstrated they not only had the chops, but the heart to reach their audience and leave an undeniable impression as well. As the floorboards shook with each pounding stomp, one thing was certain: the band announced they had arrived, loud and clear." – Dispatch Magazine
We had the chance to sit down with Ghost of Paul Revere at this summer's Arise Festival. As this is their first summer hitting the festival scene, they embraced the stage and audience like lost long friends. After 6 years as a band, the view from the car window has changed quite a bit. After playing small clubs around their home town of Main, they soon bought a van together as the local venues were selling out.
They booked their first national tour themselves with a successful run of 55 shows in 45 days. We asked them how they went about taking on that first 25,000-mile tour as a team and the logistics behind it.
Sean McCarthy – "We made a conscious decision to go all in. At that point there was no excuses to make excuses anymore. We hit the payment by establishing ourselves as an LLC. Every gig we played, we put it all into our one business account. We didn't pay ourselves out for about 3 years"
Max Davis – "Except for beers"
Sean – "Ya, beers make us sound good. We grind. Each person had a geographical region and we individually emailed every single venue in those large cities. We were putting in the work and realized that you don't become a rock star until you are too tired to enjoy it. Keeping our heads down and eye on the prize. That is how we did it. We always say that rule number is to have fun while you're doing it. It's a pretty shitty job if you are not having fun. You're up late hours and eating shit food but I get to play music with my two best friends."
You have a very eclectic sound within your instrumentation. Where do your influences come from?
Max – "Growing up together has been one of the interesting things we got to instrumentally. Griffin has always been more of an electric guitar player and grew up inspired by Led Zepplin. Sean has a musical theater and a wide range of tastes as the composer element to this group. I picked up a banjo because my buddy broke his arm in college. But because we grew up together, we knew how each other talked so harmonies came easy for us. From there we started to cover songs from Bruce Springsteen, The Who, The Rolling Stones, Bob Dylan to Snoop Dog. We are categorized as a bluegrass band but that comes from our instrumentation rather than our influences."