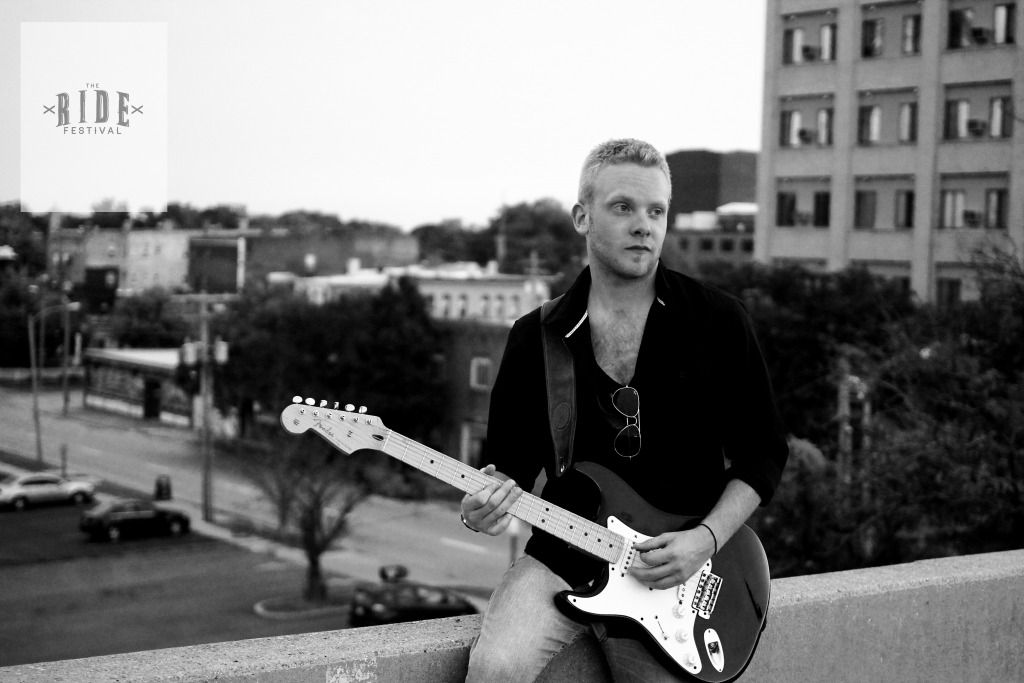 Matthew Curry has built a multi-generational audience through a deep, pure connection forged with fans that have encountered him via headline appearances and cherished support opportunities from some of the most successful touring artists in the history of music.   Simply, he is a singer-songwriter writing songs that draw from personal inspirations, incorporating elements of blues, rock, southern rock, and old school country in to his repertoire.  His guitar playing is becoming world renowned, yet for Curry his perspective is broader sharing, "Of course the guitar is a HUGE part of my music, but something I really like to focus on is trying to make good songs. Songs people can relate to. Songs people immediately want to sing along to or tap their feet to.  It is reaffirming to experience this wide spectrum of audience coming out, and when I'm on stage seeing a mix of young, old, and middle age, alongside an even split of males and females singing along to every song, I know that I'm headed down the right path."
Alongside a ton of headline dates across the U.S., and isolated appearances overseas, Matthew Curry has had the honor of touring with the Doobie Bros, Steve Miller, Peter Frampton, Journey, and others.
This year, Matthew Curry joins The RIDE Festival in Telluride Colorado to share a stage with The String Cheese Incident, Sheryl Crow, Grace Potter and many more electric guitar influenced musicians.
Steve Miller articulated his thoughts about the young player to Ultimate Classic Rock offering, "..,wonderful guitar player [and] great songwriter in the Stevie Ray Vaughan area of virtuosity and originality."  While Peter Frampton shared to 96.5 The Fox, "… someone asked me in an interview today if I thought there could be anymore guitar heroes. Well, hell yes of course and Matthew is one who will prove that to be true."
We've seen you play THE RIDE stage in previous years. How many years have you played THE RIDE festival and what are you looking forward to most about coming back?
This is my fourth time in Telluride as a part of THE RIDE Fest. I'm thrilled to be coming back once again! Aside from really enjoying working with the great folks at The Ride, I am most looking forward to the beautiful views. Telluride is truly one of the most gorgeous places I have ever seen.
You've had the opportunity to play alongside some of history's most famous musicians and songwriters. As a fan of the Doobie Brothers, Steve Miller and Peter Frampton, can you share what that's like from a musician's perspective?
I've definitely learned a lot in doing this. And I've also been lucky enough to have befriended these guys as well. I've learned how the "'big boys" do it, and by that, I mean a lot of different things. The production that goes into the shows, the energy and excitement that they put out when playing a live show, and many other things. But most importantly, in finding a great friend in Steve Miller, I've learned tons and tons about the music business. Sitting with Steve, he has enlightened me on what not to do and what to do. I've learned a lot about publishing, and the importance of owning your songs, and to have much better business. Steve has really taught me a lot, and really looked out for me when I was having difficult times with people I was working with.  He is simply an awesome person I feel truly indebted to.
How would you explain your sound to someone who has never heard you before? 
I would describe it as Roots Rock. It has elements of classic rock, blues, country, and pop. I suppose only because those are the genres I've always preferred to listen to. I try to focus on writing good songs, that have hooky melodies and choruses but also tell stories that will hopefully draw the listener in more.
How did you get started on guitar? 
I got started playing guitar through my Dad. I remember him sitting around the living room playing his acoustic when I was about 4. I would sit there on the floor and watch every movement his fingers made. Him and my mom could clearly tell that I was interested, so they bought me a miniature War-Mart brand acoustic guitar. I learned a lot of basic chords from watching him. Then I took lessons for a few years as well. When I was 9 I started sitting in with a lot of local bands here in central Illinois, and I learned a lot about music from doing that as well. Later, when I got out of high school, I started touring with people like Steve Miller, The Doobie Bros, and Peter Frampton, along with some other hugely recognizable names. Besides that being a big honor for me, I was lucky enough to have befriended those guys. They all became mentors for me, and have really helped me a lot. I've learned a lot about the music business through them. I feel very luck and fortunate to have had so much support along the way. But I really have to thank my parents for being so supportive from the very start, and doing everything they could to help me.
What other artists on the bill are you especially looking forward to hearing the weekend of The Ride Fest
I'm especially looking forward to hearing Mike Campbell's band, The Dirty Knobs. I have always loved Mike's guitar playing, his slide playing in particular. I'm also really looking forward to hearing the Chris Robinson Brotherhood. Chris's voice and the songs that he did with the Black Crowes was one of the very first things that got me interested in music to begin with. So, I am really interested to hear what kind of stuff the Brotherhood is putting out!
If you could go back 5 years and tell yourself one thing to do differently to better yourself as a musician, songwriter, performer or overall career, what would it be? 
It's really hard to say because I feel like I still have a long way to go and a lot to learn. But if there was one thing I could go back and tell myself, it would be to just take things in stride and not let myself get too worked up about things that can happen to you in this ever-changing thing they call the music business. I've been lucky to have a lot of guidance along the way so far. But I've also had to make some pretty big decisions on my own, some for better, some for worse. But it's definitely a learning experience.
What is your go to guitar and amp to get that killer tone?
My guitar and amp collection is most likely never going to stop growing, haha. But my go to on the road is an Eric Clapton model Fender Strat, ran through my 71 Fender Bandmaster Reverb and a Friedman Dirty Shirley. However, that could change at some point! I'm always searching for the next best thing!
WEBSITE: https://matthewcurry.com/home
SPOTIFY / TWITTER / FACEBOOK / INSTAGRAM
___________________________
The RIDE Festival is offering General Admission & VIP weekend passes, single day Saturday or Sunday tickets, and Telluride Town Park camping, car and RV passes.
For more information about the RIDE Festival including ticketing, camping & lodging details check outwww.RIDEfestival.com or call 970-369-0000.