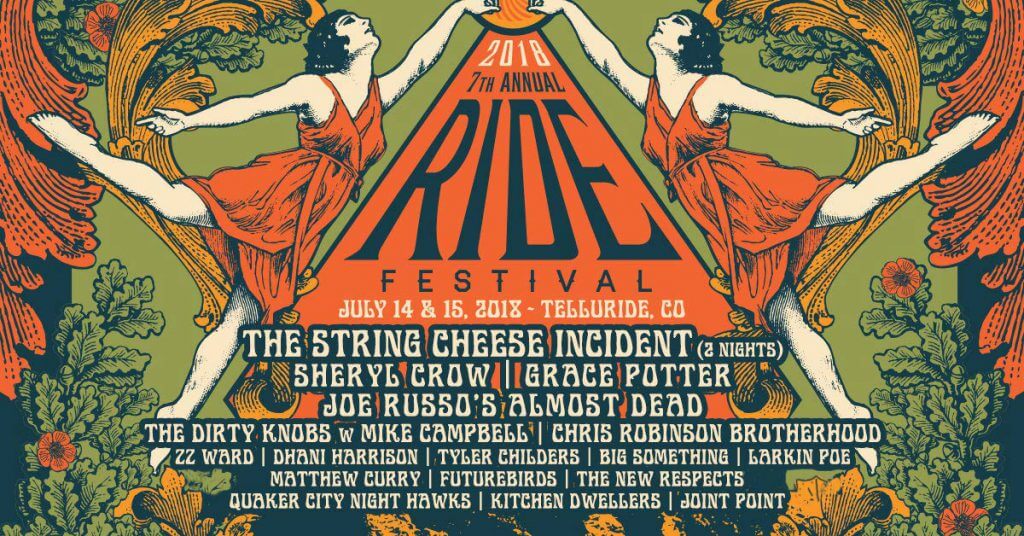 How The RIDE was Born: Interview by Mike Ligon of Homevibe Presents
The 7th Annual RIDE Festival proudly announces its 2018 artist lineup scheduled to perform on July 13-15, 2018, in the beautiful San Juan Mountains of Telluride, Colorado. The RIDE offers world-class rock and roll music, camping and mountain adventure in an intimate setting.
Headlining the 2018 RIDE Festival is Colorado's own String Cheese Incident. They'll play at the Fred Shellman Memorial Stage in Telluride Town Park on Saturday and Sunday, July 14 & 15. The lineup also includes Joe Russo's Almost Dead, Mike Campbell and The Dirty Knobs and the Chris Robinson Brotherhood who each bring a unique style of rock to the Festival stage.
The RIDE has worked hard to include a talented array of "Women of Rock" in the lineup and are proud to be hosting five female bands this year: Sheryl Crow, Grace Potter, ZZ Ward, Larkin Poe as well as The New Respects.
"Music is the common thread that ties us all together. All of us at The RIDE consider it a privilege to host so many incredibly talented artists in this beautiful and unique alpine valley that we call home." – Todd Creel, Festival Promoter
Head Above Music had the opportunity to ask Todd Creel how The RIDE came to be and how they have cultivated amazing lineups over the last 7 years.
First off, I've been to your festival since the beginning and it has been awesome. Thank you for introducing me to The Revivalists!
That's awesome, I love those guys!
Where did the vision for the Ride Festival come from?
I had a Wednesday radio show on Telluride radio station KOTO for 30 years. I studied music in college and have always been a big music fan. When the Colorado Classic bike race came through Telluride in 2012 the mayor wanted to keep people around with music at the Telluride stage and they approached me about booking some music for the weekend. I jumped at the opportunity as I LOVED the venue [Town Park] and wanted to diversify the festival offerings in Telluride and create a homegrown, Telluride based festival.  From there, The Ride was born.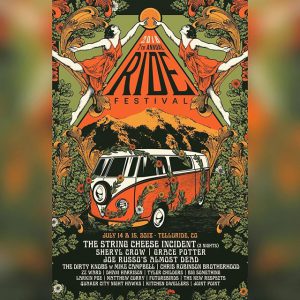 The Ride has always provided a platform for up and coming bands, who are you most excited about this year, and who are you most proud of being able to say, "we had them when"?
Finding new talent is the most rewarding.  We get suggestions from our fanbase, and we listen. Tyler Childers and Larkin Po are going to blow everyone away this year. We Had them when: The Lumineers. They have really blown up since 2012, and they were a lot of fun to have.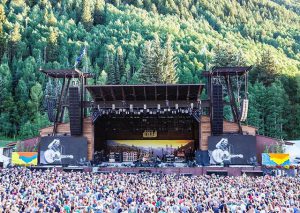 Conversely, in 2016 you had one of the biggest rock bands in the world, Pearl Jam at The Ride. Tell us what it was like working with them?
It was an honor and a miracle to make it happen. It took a lot of money and persistence. I met with their agent in Hollywood and we got along really well.  Then, the stars aligned with a Europe tour cancel for PJ in 2016. We had offered every year since it started, and it finally worked out. It was the greatest music experience of my life.
How do ultimately decide on the lineup for each year? What factors go into the curation of the festival?
It depends on the level of band. We get lots of submissions, and ultimately, it's our opinion on what we feel like is a good fit. The Ride is only two days, so it is very hard to choose. We are focused mainly on raw talent balanced with headliners. Headliners who are available and or willing to get people to come to Telluride.  We are starting to get big bands approaching us, which is helping a lot.
How has the community embraced having a rock festival in Telluride?
Locals have embraced it as their own festival. It feels homegrown and that is intentional.
What should people be most excited about for this year's festival? Any major changes or enhancements?
No major changes, but I am so excited about the Lineup! This year there will be a lot of amazing talented women on our stage, and hopefully some really fun collaborations are in the works (wink wink)
What does the future hold for The Ride?
Keep building on what we've been doing. Keep bringing new and known bands to Telluride. Keep building community.  Keep making it a local FUN event for everyone. Not just a concert, it's a living breathing community collaborative event.
__________________________
The RIDE Festival is offering General Admission & VIP weekend passes, single day Saturday or Sunday tickets, and Telluride Town Park camping, car and RV passes.
For more information about the RIDE Festival including ticketing, camping & lodging details check out www.RIDEfestival.com or call 970-369-0000.