Rebecca & Megan Lovell of Larkin Poe are singer/songwriter, multi-instrumentalist sisters creating their own brand of Roots Rock 'n' Roll: gritty, soulful, and flavored by their southern heritage. Originally from Atlanta and currently living in Nashville, they are descendants of tortured artist and creative genius Edgar Allan Poe.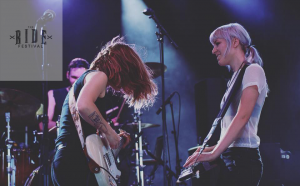 They join The RIDE Festival this weekend to share a stage with powerhouse artists like Sheryl Crow, Grace Potter and their friends The New Respects. You can also find them on the road with Keith Urban as featured musicians throughout the summer.
This week they shared a bit of their musical history while introducing us to their "Tip the Hat" series, where they keep their fans tuning in for their next Larkin Poe style cover version of their favorite musical influences.
As two talented, multi-instrumentalist sisters, I'm assume you grew up with music around your house. How old were you two when you started playing music and what instrument did you start on?
Our mother put us in classical violin lessons at ages 3 and 4, so that was our first taste of music. Bless our mom for her fortitude in enduring little girls scratching away at the violin and, later, banging away at the piano. In our early teens we were introduced to roots music and it was all over for the classical training – we were captivated by folk, blues and bluegrass. We switched our violins for banjos, mandolins, and dobros and began experimenting with improvisation and songwriting. All the while, our father was spinning all the great classic rock records for us – Pink Floyd, Fleetwood Mac, the Eagles, Led Zep, the Rolling Stones, the Allman Brothers… So we've always had a great love of 60s and 70s rock that's found it's way into the sound of Larkin Poe.
How would you explain your sound to someone who has never heard you before?
Since we grew up steeped in the source music of the south – blues, bluegrass, folk – our music starts there and branches outward. Our sound is very southern, with a classic rock sensibility. We love music that is real, raw, and energetic, so we've always worked towards honing those qualities in our own music.
The evolution of Larkin Poe from 2010 to 2018 has been constant, radical, and breathtaking. It has taken us years of seeking to finally uncover the musical path upon which we currently tread. Music is a journey and it means different things to each and everyone one of us at the different stages of our lives. We're hugely grateful to be where we are right now, making the music we're making.
We are fans of your Instagram posts and Youtube videos and enjoy the variety of covers you capture. How do you pick your material for these videos? 

Our 'Tip O' The Hat' video series has been an incredibly fun outlet for our musical energies on social media. Having grown up in such a music-loving household means that we have a huge mental catalog of classic hits roiling around in the back of our heads – especially from the 60's and 70's. We pick out songs that we love and then do best to respectfully nip/tuck them into the Larkin Poe style. Truly, being able to keep in direct contact with our fans – be it on Facebook, YouTube, or Instagram – feels like such a gift.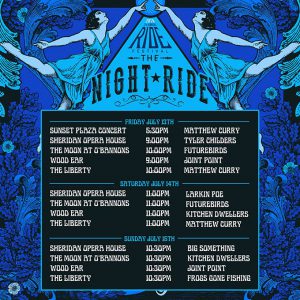 We see you are on the road from now until September. Do you have any tips or hacks to stay healthy on the road? 
We do have a pretty crazy schedule with precious little off time from now till September, so we're trying to pace ourselves. Staying healthy on the road is essential when you're playing shows most nights… we go through hand sanitizer like crazy, rest as much as possible, and drink lots of water.
Is there any new music coming out or new projects you want to share?
We're still touring in support of our album 'Peach' now and in the coming months, but we're super excited cause we're in the process of finished up our next cd and can't wait for people to hear it later in the year. So we hope everyone will stay tuned for it!
Website / Instagram / Spotify / Facebook / YouTube
_____________________
The RIDE Festival is offering General Admission & VIP weekend passes, single day Saturday or Sunday tickets, and Telluride Town Park camping, car and RV passes.
For more information about the RIDE Festival including ticketing, camping & lodging details check outwww.RIDEfestival.com or call 970-369-0000.