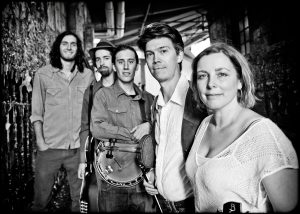 We first met the Blackberry Bushes up in Bozeman, Montana this last July. They were playing the Filling Station and had only played Boulder, CO two nights before. With many miles behind them over just a few nights, their harmonies shined, musicianship was tight and their songs echoed in your head throughout the night. They return to Boulder tonight, Thursday, November 5th to play the Fox Theater with The Travelin' McCourtys.
We got in touch with The Blackberry Bushes to ask them how they reach their audience on a regular basis while they tour all over the country. Daniel Ullom, the band's mandolin player responded in kind.
What do you use most to promote your shows?
We use Facebook Events and Twitter mostly. I think Facebook is our strongest platform by far, but we are trying to build up our other platforms too. Especially Youtube and Instagram. Facebook events are great because they are so easy to create and share over the Internet. They also are a good indicator of the crowd we'll have—like if 200 people say they're going, and we can usually assume that 60 are guaranteed to show up. It doesn't sound that great, but it is a solid indicator that we can use to boost the show "Hey guys, 200 people are coming to our show. It sounds like a party you don't want to miss" That being said, we're working on Youtube and Instagram, because a picture is worth a thousand words and a video showing what the band looks like is even more powerful.
How do you promote your music?
Same places, but we try to keep our posts less promotional and more community oriented. I think that is the real power of social media—authenticity. When folks are hooked up to their Facebook feed, they are totally in their head and their reactions are much more honest than if you're talking to them in person. So that means that everything you post on social media really needs to be coming from an honest place because people can see through bullshit pretty easily. Your posts really have to focus on how your music is promoting the community as a whole.
We also hired a publicist for this latest album, and she's been sending our record around to radio stations and music blogs. There are so many artists putting out great content that it is necessary to invest in a "gatekeeper" to make sure your music is visible.
What are three elements that go into booking a tour?
Routing, emails, and phone calls. We decide where it is that we want to go, and then get in touch with venues in those places. The band has a pretty strong network across the country, but there are still regions in which we haven't yet build up a following. Finding those connections means a lot of e-mails and a lot of phone calls.
What is your favorite instrument gear and why?
Well obviously we are a huge fan of stringed instruments, and we can't pick a favorite there, so I'll say our favorite pieces of gear are our beautiful Ear Trumpet Lab Edwina mics. They are elegant visually and sound so good. We had been seeing string bands of all sorts using them—Della Mae, Hot Rize, and the Foghorn Stringband—and so we finally stopped by their location in Portland to try them out. We were blown away pretty much on the spot. They are also reasonably priced, which makes them one of the best options for acoustic bands.
What social network do you communicate most with your fans?
We have the greatest reach on Facebook because we have been doing it the longest, but I have recently become a Twitter lover. It is so concise. I also really like Bands in Town and am encouraging music fans to use it, as it can cut through a lot of the social media clutter.
How do you reach out to yours fans outside of social platforms?
We have a newsletter that we sent out about twice a month. Unlike Facebook and other social platforms, the newsletter is exclusively our space so in a lot of ways it's our most powerful way of reaching out to fans. We also have a newsletter sign up at all of our shows to try and reach people right away.
How do you write songs as a band?
Usually someone brings a song more or less done and we work as a group to come up with an arrangement that works for the show and for the song. Some songs start with vocals and build from there, while others have a progression and feel already defined, and the vocal melody comes later. Jes has written a few songs that went through the arranging process two or three times before we finally found an arrangement that works. Songwriting is definitely one of the more exciting parts of the band, but it also requires the most patience.
 THE BLACKBERRY BUSHES HAVE THAT RARE MAGIC THAT ALLOWS THEM TO FUSE VOICES FROM MANY GENRES INTO AN  ACOUSTIC INSTRUMENTATION THAT RETAINS DISTINCT THREADS OF SONIC COLOR. ELEMENTS OF JAZZ, CLASSICAL, POP, OLD-TIME AND BLUEGRASS SATURATE THIS MODERN STRING BAND SOUND THAT IS BUOYANT, BOLD, AND LIKE THEIR THORNY NAMESAKE, ROOTED AND GROWING, GROWING, GROWING.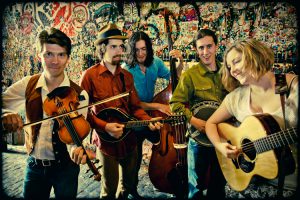 Listeners can find them on iTunes HERE. Download their latest album and support the band today. You can learn more about their adventures at