How to Start Your Pedal Search
By Hank of Pedal Nerd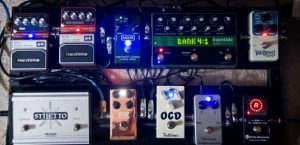 Over the years, I've been asked multiple times for advice on pedal selection. This is always a harder question than it initially appears and has many factors. In this short article I would like to break down some of these factors so you can efficiently start your guitar pedal search.
The first step is the easy one – to determine what type of pedal you're looking for. Generally, people know what type of pedal they're looking for. When I say type, I'm referring delay, overdrive, fuzz, distortion, modulation, etc. In this example, I will focus on a delay pedal.
Next it's important to identify what you like when you hear this particular type of effect. If you're looking for a delay, and like a particular delay sound from a band or musician, do the extra leg work to find out what that pedal could be. There are often pedalboard layout photos or discussions on forums regarding gear. Become familiar with the specifications of that pedal and understand its capabilities. Begin to watch and read reviews of that pedal, etc.
Once you've determined the models and manufacturers of pedals that you like, breakdown their features. Does it have tap tempo? Is it analog? Is it digital?  Can it loop, etc.? How long is the delay time? Begin to create a list of delays that would meet your delay requirements.
Once you have some models and manufacturers identified, it's time to find what meets your budget. Some pedals are very common and quite affordable. Some pedals fall in the boutique range and can have a hefty price tag. Often there is the 'x' factor where one is looking to stand out from the crowd and be unique or different. Today there are countless pedals being made, so there are many options to pick from.
To summarize, know what type you're interested in. Find out what models/manufacturers you like based on artist/bands/musicians that play that particular pedal. Break down their features to understand alternatives and compromises in your pedal selections. Understand the costs of your contending list of pedals, and pick what you can afford.
I don't like to think that there are 'wrong' decisions here. If you end up picking a pedal and not liking it, you can probably sell it on eBay or trade it with another musician. I like to think of pedals are opportunities to build and grow your tonal arsenal. You will always look to upgrade or build off your pedals… so the quest is never ending.
[PedalNerd.com is the best resource for finding deals on guitar and bass effects on eBay]
Pedal Nerd Recommendations :
One book I would recommend is The Motel Life by Willy Vlautin
My favorite piece of gear is my Travis Bean Guitar, I can't live on the road without it.
I'm listening to Mogwai – Hunted by Freak – Happy Songs for Happy People Album