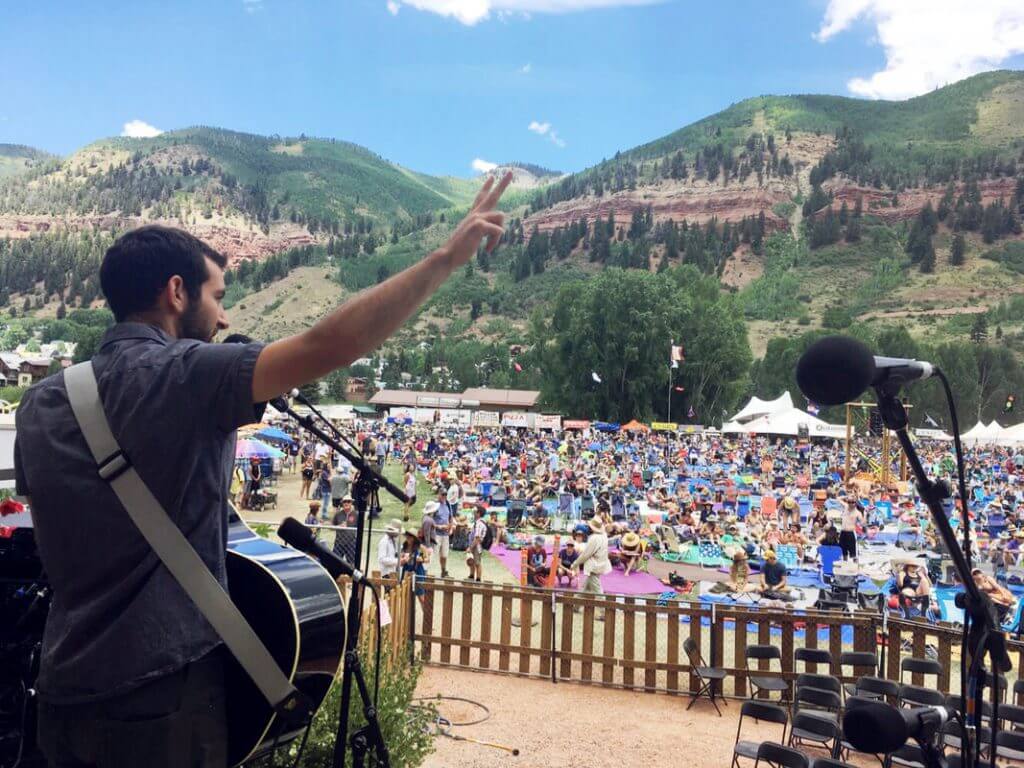 With appearances this year at Telluride Bluegrass Festival, Wildflower! Arts & Music Festival, and Falcon Ridge Folk Festival, Kyle Donovan's forthcoming album has already won critical acclaim from folk festivals and competitions across the nation. The storytelling troubadour has been crafting vivid vignettes, capturing moments from everyday life to tell stories of love, loss, family, and the passage of time for a new album called Then and Now, slated for release in early 2019. ​He calls the countryside near Boulder, CO home, and often produces, collaborates, and plays with other songwriters on the Front Range, including Summerland Sun and Clandestine Amigo. Kyle also hosts a monthly live-performance podcast featuring independent musicians called The Songwriter Hour. In the last two years Kyle Donovan has won multiple awards across the country including:
Winner of Wildflower! Performing Songwriter Contest's Michael Terry People's Choice Award in 2018
Finalist at Telluride Bluegrass Festival's Troubadour Contest in 2018
Emerging Artist at Falcon Ridge Folk Festival in 2018

Alternate Finalist at Telluride Bluegrass Festival's Troubadour Contest in 2017
Three months ago, Kyle launched a new podcast called The Songwriter Hour. Each episode is recorded in front of a live audience at Still Cellars, a distillery and art house based in Longmont, CO. The interview-style show features original songs from established independent musicians, along with a round table discussion and a Q&A section, where questions are fielded from the audience. The evening's featured songwriters discuss topics such as the songwriting process, biographical background, and a monthly theme rooted in the exploration of music and all the business it encompasses.
This month Kyle takes on another challenge, as he is raising funds to support the release of a new album and funding it with the help of Kickstarter via his fans, friends, family and community.
"I've been writing my own songs, slowly and methodically crafting my next album. Practicing them at venues small and large, locally and across the country. I've picked ten of my favorites, and started recording them with the best-quality gear I can get my hands on. I've been working with sound engineers and collaborating with talented musicians to bring them to life."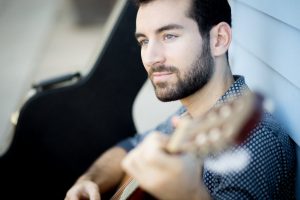 How many songs did you start with before picking ten of your favorite for this project?
The songs on this album are an exploration of memories from my own life – colorful takes on themes that many of us have experienced, like moving away from your childhood home, giving up on a romance, or losing a loved one. I started writing them in the early mornings after Folk Alliance International in 2017 – each morning, I would wake up with some glimmer of inspiration still clinging to my mind from dreams, and write down a few lines from a memory that stood out to me in my life. This went on for a little over two weeks, until I had nearly twenty songs. Slowly, over the last year or so, I've written a couple more and pared down the list, until I came up with this track list. Some of the songs that didn't make the cut for this album will be featured on my next album, which will be louder, heavier, and have a more rock and roll vibe.
What kind of gear did you start recording this project with?
To record these songs, I've been using PreSonus Studio One for my DAW (Digital Audio Workstation). The microphones I've been using are from Michael Joly, a sound engineer based near Cape Cod, who used to build replicas of classic microphones like the Neumann U87 and the AKG C414. I've been recording the vocals through a tube preamp, the ART MPA Gold II, and most other instruments through my interface, which is a Steinberg UR44. For monitoring, I'm using Sennheiser's HD 380 Pro headphones and M-Audio's BX5 monitors.

It's a fairly basic setup, but it gets the job done with stellar quality. One of my favorite new discoveries (thanks to a friend) was a plug-in from Softube called "Tape," which seamlessly works with Studio One to emulate a real tape machine, with crosstalk between tracks, hiss, and console coloration. It brings the track from feeling like a flat, 2-dimensional, digital recording to a vivid, 3-dimensional soundscape.
Why did you start a podcast and how is The Songwriter Hour podcast unique to not only musician listeners but music lovers as well?
The podcast was an invention that came to me serendipitously. I was asked by a friend to take some podcast editing duties on almost a year ago, so I was already enjoying the post-production end of that job. When Sadye, one of the owners at Still Cellars, asked me if I would consider doing a monthly show at their venue, I knew it had to be something original. Boulder-in-the-Round is a great asset to the Front Range music community, and I didn't want to create a copy of something that was already being done. I knew I had a passion for podcasts (I love Radiolab, Hardcore History, and a bunch of others), so I started brainstorming how I could make this a reality.

eTown already did an interview-style show, but at a larger scale, and with a different vibe. I wanted to create something truly intimate, where songwriters could be heard. Every time we've had a live recording, the audience has been pin-drop silent for over two hours. Even for big-time acts, that's a huge deal. Being really listened to and heard in a profound way is a gift to songwriters, and I wanted to bring that to the table. As an audience member, I imagine it's similarly a treat not to have to strain to listen over the chatter of other patrons. The attention and intention that the show creates is really its greatest strength.
Can you give us some background on the many hats that you wear in the Colorado music community and how it influenced this new album?
Absolutely – it's a lot of hats! Fedoras, berets, beanies – I even have a trilby somewhere. Seriously though, I'll run through them quickly, and then touch on each one with a little more detail.

1. Singer-Songwriter.
2. Band Member: Clandestine Amigo & Summerland Sun
3. Studio Engineer
4. Live Sound Engineer
5. Podcast Host
6. Podcast Editor
7. Web Designer
8. Children's Music Entertainer

First and foremost, I think of myself as a songwriter. I write and perform my own original music across the state, sometimes even with a band. Speaking of bands, I play in a couple of those – namely Clandestine Amigo and Summerland Sun. I also produce music in my home studio, as a sound engineer. I'm actually working to produce Clandestine Amigo's first new single right now! I use those sound engineering skills to run The Songwriter Hour, as well as editing other podcasts, and running live sound, when folks ask me to help out at a venue. I build websites for musicians and small businesses – and last, but not least, I run a children's music program called "Rock On! Science," where I give presentations on Earth Science concepts for little ones (ages 6-10).
It's a lot to juggle, but my advice for others who have many irons in the fire is this: take it one day at a time. There will be moments when things are pressing and demand your attention, and moments when you can breathe more easily. Take that laid-back time to imagine your next steps and plan carefully. There is a balance to everything, and balance is the key to my sanity, without a doubt.
There is a lot that goes into recording, distributing and promoting a new album. You do a fantastic job of breaking down the "behind the scenes" process on your Kickstarter campaign. Why did you pick Kickstarter over Iniegogo or GoFundMe?
Thank you, Dave. I like that Kickstarter's style is "all-or-nothing." I think it helps artists get the support that they need, since the community really wants them to succeed. Nobody wants to see a campaign get to 90% funded and then fail. There's also a certain brand-awareness around Kickstarter that other crowdfunding platforms haven't quite caught up to yet. I've seen lots of artists successfully crowdfund through different avenues, so I don't think there's a right or a wrong answer. This one just spoke to me and felt right.
Check out Kyle's Kickstarter Campaign HERE: https://kck.st/2EgwGlv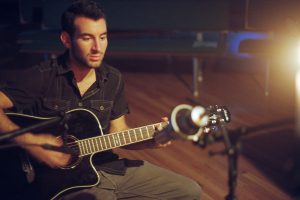 As songwriters, we say that we hope people listen to our songs and feel a little less alone in the way the listener connects to that song. How do you hope to connect with the listeners with these songs?
My hope is really that these songs help people to get in touch with their deep feelings. If that's a sense of connection, I think that's beautiful. But I think feelings of loneliness, loss, and grief are important to feel as well. Some of these songs will bring out a triumphant nostalgia, whereas others might bring up feelings of remorse and pain. It's all part of the human condition, and I'm excited to bring that to the table. When I was first mapping out this album on a sheet of blank paper, over a year ago, I knew that a guiding principle had to be making music that gives me chills. It's the punch-you-in-the-gut, no-questions-asked type of feelings that I'm interested in conveying, and I think helping people get in touch with those feelings is a big goal for me.
Can you name 3 songwriters that you have been listening to this month?
Anna Tivel, Iron & Wine, Father John Misty. Anna was the first person to really hit me in the gut with a live performance. Her music is devastatingly beautiful, and I can't recommend it highly enough. It's ethereal, sharp-as-a-tac, and often has hints of the darkness I mentioned above. Iron & Wine has been a favorite for some time. Sam Beam's vivid imagery combined with his gorgeous new soundscapes provide a real feeling of nostalgia for places I've never been and emotions I've never experienced. That's a unique novelty which speaks to me deeply. Father John Misty is fun to listen to. He's witty, quirky, and jokes sardonically about the apocalypse in his music. I can't get enough of the high-octane desperation that he lends to the album I Love You, Honeybear.
If you could go back in time 5 years and tell yourself one thing about the music business in the future, what would it be?
Relax. Relax. Relax. It's going to be okay.
Pencil or Pen?
Pen! No erasing 🙂 Plus, the ink spills out so beautifully onto the page. TUL pens are my new favorite.
Listen to Kyle Donovan on SoundCloud / www.kyledonovan.com
Follow Kyle Donovan on Facebook / Instagram / Twitter