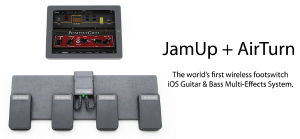 JamUp is the world's first iOS Guitar & Bass multi-effects app to add wireless footswitch control with the AirTurn BT-105 pedal Bluetooth pedal system.  Choose from dozens of studio-grade virtual stomp box effects and meticulously modeled amps to craft the perfect sound.  Save multiple settings as playlists.  Assign effects, amps or playlists to the AirTurn BT-105 pedals and toggle your effects or sound banks wirelessly and hands-free.  Plug in the JamUp Plug to your iOS device, connect to your instrument and amp, and blow the world away.  All with a setup that costs and weighs a fraction of a trunk full of gear.
Airturn and JamUp Bring You All Four
IndieBible Music Directories for $59.95
($280 SAVINGS)
With JamUp, you can create the perfect sound.  With AirTurn, you can control your performances hands-free.  And with The Indie Bible, you can close the deal on the perfect gig or recording contract.
The Indie Bible is an international music resource that helps independent artists with their music promotion, indie marketing campaigns, radio promotion, quest to get music reviews, radio airplay & interviews. It also helps indie artists to get featured and have their video and audio files posted in music blogs and online digital music websites. There is an extensive section featuring a list of independent record labels and music distributors of all genres, both in the US and abroad. There is an additional section for digital music distribution. The last section contains hundreds of music promotional and marketing tools to help your career grow to its fullest potential. All sections are sorted by genre and geographic location. The Indie Bible helps you to gain international exposure for your music on a limited budget.
The Indie Bible is over 1000 pages. You'll note that SECTION 16 consists of 66 music articles written by respected experts within the industry. The articles cover all areas of music marketing and promotion including social networking, copyright law, music distribution, the music business, how to approach radio hosts & music editors etc. You can visit the Indie Bible e-book website by clicking here.