Taarka is a 4-piece string band from Lyons, CO. We play adventurous songs that stretch the boundaries of traditional folk music – bluegrass, celtic, and gypsy-jazz – and we've been doing it, all around the US and internationally, for 16 years. It's been a great ride so far. Here's some insight into how we've done it.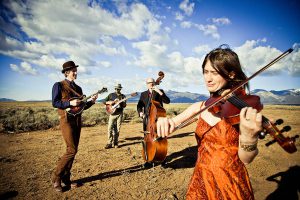 Being independent musicians on the road isn't always easy, especially when all the jobs bigger bands have teams for – booking, publicity, management, tour management – are being taken care of by band members. And even now that we do have a team, there's still so much to do. The way we've managed to be successful as an independent band is by delegating tasks. Our core band  is a duo, so one of us communicates with the booking agent and advances the shows, and keeps track of the band finances on and off the road. The other communicates with the promoters at the venues and our PR agent, creates and sends posters to the venues, reaches out to fans on social media and through our email list, and figures out where we're going to stay each night of a tour and when we need to leave the next day. If you have 4 invested members, you can delegate these jobs even more effectively.
That only takes care of the business side of being an independent touring band though. There're still the basics of life to attend to. Physical and mental health are so important to bringing it to the best of your ability in performances night after night, and being on tour is a bit of a pressure cooker as far as these things go. You're in a small space – we've toured in everything from a Subaru Outback to a Silver Eagle bus, but even that is tight quarters for 4-6 people – you meet new (sick) people every night, you have to contend with bar food and sleeping on couches, and alone time is a precious commodity. Things that have kept us sane and healthy on the road are as follows.
1.We always know where the nearest natural food co-op (or whole foods) is and make sure we're stocked up on plenty of healthy, non-perishable food (including plain yogurt and fermented veggies – so important) helps us stay healthy;
2. We try to make time for exercise every damn day – running, yoga, and try to stay in hotels with gyms as much as possible. This is also a great way to get some personal time and space without your bandmates thinking you're mad at them.
3. Responsible partying is important – we try not to buy into the idea that just because we're the "entertainment" we need to empty a 5th of whiskey and take 20 bong hits every night – we are responsible for our gifts, more than for keeping the after-party entertained
4. On a related note (this should be #1) practice! We are musicians, and the best way to stay in touch with what makes us valuable as musicians is to keep practicing while on the road. It's not easy, but sensible routing to keep time out of the van as long as possible, and quiet or inaudible instruments that can be played in the back seat of the van without upsetting anyone have made our lives much better. That and singing in hotel showers.
The creative life is a brave undertaking. Good luck!
More on Taarka
Acoustic power quartet Taarka captures an embraceable and multifaceted sound (members call it "adventurous Americana") deriving from influences that include bluegrass, pop rock, folk, old-time, Gypsy-Jazz, and Celtic. The accomplished band's seventh album, Fading Mystery (March 10, 2017), was recorded live near the banks of eastern Virginia's Potomac River. The result is an organic collection of original songs including featured tracks "Carried Away," "Athena," and "Polyamorous Polly Ann."
In the studio and on stages across the United States and abroad, Taarka delivers energy, emotion, and "gravity-defying" talent (R2 Magazine, UK). Members include musical husband-wife duo David Tiller (mandolin, electric guitar, and vocals) and Enion Pelta-Tiller (five-string violin and vocals), with Troy Robey (bass, harmony vocals) and Mike Robinson (guitar, harmony vocals).
Taarka : Website