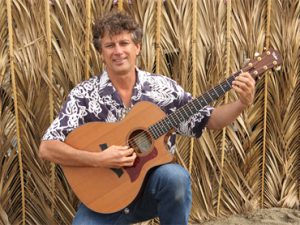 To say Jim 'Kimo' West has had a long and successful career as a musician would be a major understatement. He has been the long time guitar player for Weird Al Yankovic since the bands inception (his first show as a band was March 31, 1982, several days later, Yankovic and his band were the opening act for Missing Persons). He's traveled the world, played for 100 of thousands of
people, been nominated for a few and won a Grammy, written and composed music for TV and film…and still managed to be one of the most humble and down to earth guys I've had the pleasure of meeting.
What you may not know is that Jim is also a virtuistic Slack-Key (ki ho 'alu) guitar player. He's received praise from his technique and playing to his original compositions. He has a real passion for Slack-Key, a respect for it's tradition and the ability to make it his own and push his original compositions into a unique area all his own.
For those who don't know slack-key guitar is: a fingerstyle genre of guitar music that originated in Hawaii. Its name refers to its characteristic open tunings: the English term is a translation of the Hawaiian kī hōʻalu, which means "loosen the [tuning] key". Most slack-key tunings can be achieved by starting with a guitar in standard tuning and detuning or "slacking" one or more of the strings until the six strings form a single chord, frequently G major (wikipedia)
For more info on Slack-Key click here.
---
1. How did you become interested in Slack-key guitar playing? And what, if any, influences lead you there?
I made my first trip to Hawaii in 1985, to a small rural town called Hana, Maui. The family I stayed with had a great collection of Hawaiian music LP's and cassettes including slack key records by Gabby Pahinui, Sons Of Hawaii, Raymond Kane and Atta Isaacs. I was immediately drawn to the sound of slack key and it seemed a perfect compliment to the beautiful Hana Coast landscape. I didn't try playing slack key for a long time but by the mid-ninites I was writing my own "ki ho'alu" tunes. Most of these songs ended up on my first CD, "Coconut Hat".
   After that CD came out I was invited to perform at the Maui Slack Key Festival and met many of my slack key heroes there. I received so many kind words about that CD from folks in Hawaii and the Mainland so I was inspired to keep writing and performing.
Where would you tell a musician to go to learn more about Slack-Key?
   I learned mostly from records and then from jamming with other slack key artists but nowadays there is a wealth of information available now in the form of tabs, You Tubes video tutorials and lesson programs. Keola Beamer and Ozzie Kotani are two artists with strong slack key educational programs. I teach workshops and occasionally do private lessons if asked but don't have a regular teaching program.
2. How have your years of study influenced your original slack key compositions?
   I'm completely self-taught but I bring a lot of other influences to my my slack key compositions and playing style from folk fingerpicking to blues, jazz, ragtime and contemporary styles. Although I love real old-style slack key, I prefer to move the genre along and do things a little differently. There's always room for that and it's just where my fingers go naturally!
4. A quick glance at the cover of the new album, Slackers in Paradise, and it looks like the recording process was horrible :). How do you go about recording and planning pre production for your albums?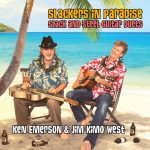 Well my previous records have all been solo projects so it was fun to have a some one to bounce ideas off of! Ken Emerson and I have been friends since 2001 and had been wanting to make a play together. We had a chance to play at the Southern California Slack Key Festival a few years ago and had a ball. Right then we decided we need to make a record so we started brainstorming.
   Ken had been going through the loss of his dad so we had to figure out a schedule that worked around that. I had a few tracks started so when Ken came down to LA from Napa he added his parts to those. Then we got his parts down for some of his tunes and I added my parts later. We repeated that same scenario again a few months later and then I worked on the mixes when I could. I added "Weird Al's accordion part on 'Slack Key Polka" in my hotel room while we on tour last year.
5. What do you love most about playing Hawaii and what venues should new musicians in the area check out?
    Slack Key is music that seems to come directly from the 'aina, the land- every note seems to resonate with the place. One of my regular gigs is at George Kahumoku's Slack Key Show at Napili Kai on Maui. George is a Hawaiian music legend and multiple Grammy-winner who has hosted this wonderful  series for over twelve years. All the slack key legends play here and it's always an aloha-filled evening.    
  Hawaii's slack key festivals are also fun and they have them on every island. If one is in Honolulu you can catch a lot of good music at various venues such as the Kanikapila Grill at the Outrigger, Hilton Hawaiian Village, Gordon Biersch Brewery and Honey's, many other spots.
6. With your regular gig (Weird Al) having a fairly intense, and long tour schedule, did slack-key offer you a, sort of, come down/respite from the big time rock show?
    Yes, they are two different worlds for sure! It is nice to get back to slack key after a long tour but I can go pretty easily from one gig to another. I have often played slack key shows on nights off during a Weird Al tour and it has worked out well!
7. What does the future hold for Jim 'Kimo' West and the world of Slack Key?
  I have a number of project ideas with a couple already in the works. I never have any real schedule for new projects but just let them happen when they feel like coming to fruition. I don't know how many more CD's I will put out as that medium has been shrinking in popularity. I'd like to do an orchestral slack key project one day if I can ever raise enough money to pay an orchestra!
  Ken Emerson and I will also do another CD, perhaps a live one.
8. If you all could go back 25 years, what lessons would you relay to yourselves?
   Gee, I always feel like I've mostly made petty good calls and been extremely lucky over the last 25 years! I now when I was an art student in college I was adamant about not formally studying music. I didn't want to be a "robot" musician and instead make my own way. Even though I studied on my own, I know I would have probably benefited from some guitar and composition tutoring. But then again, I wouldn't be who I am today-I might be out backing up Barry Manilow or something!
9. Can you guys give me 5 bands that are currently peaking your interest and what you dig about them?
Well we mostly dig older stuff but then I hear a lot of new records that are just mind-blowing. I listen to a lot of indy Grammy entries and have heard some great stuff the last few years.
| | |
| --- | --- |
| | Ricky Kej's "Shanti Samsara" is an amazing and multi-faceted music / environmental consciousness record. |
| | |
| --- | --- |
| | My friend's Mark Campbell's latest blues / funk record with Jack Mack and the Heart Attack,"Back To The Shack"  is smoking |
| | |
| --- | --- |
| | My friend, Secret Agent 23 Skidoo,  just won a Best Children's Album Grammy with his awesome family-friendly funk record, "Infinity Plus 1" |
| | |
| --- | --- |
| | Finally, a shout out to my friend and awesome blues guitarist, Beth Garner for her brad-spanking new and extra-greasy CD, "Snake Farm"! |
---
A HUGE thanks to Jim for taking the time to give us a glimpse into his world of Slack-Key guitar!
| | |
| --- | --- |
| | Find Jim 'Kimo' West online here |