Call me crazy, but I think health starts in the brain 😉 I think we are at our best when we feel safe, happy, and healthy. I think our nation, our communities, and our families would all benefit from a healthier mental perspective. Right? I sure as hell have found this to be true! There's a whole lot to be done, but there's one thing we can all do about it right now; it's simple: we can talk about it!!!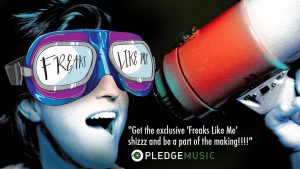 This year I've taken a pledge through Campaign Change Direction to help spread the word about mental health awareness and stop the stigma. I'll also be donating a % of my current Pledge Campaign to Campaign Change Direction. The record is mostly about various mental health battles I have faced. So I thought I'd kill two birds with one stone by including this amazing cause in the campaign to fund my record. It's group therapy and group activism at the same time 😉 Yay!!!
Seriously, though, stigma and fear can do so much damage. I know because I've been there, on both sides of that coin. Both myself and family member have experienced all kinds of mental health stuff. We have overcome so much together, and it's taken a lot of hard work and determination, but we have grown strong together in our various battles. There are some things you cannot do alone ya know?
Take a second and check out my Pledge Campaign HERE and please visit Campaign Change Direction and make your pledge! I've included the links above! We can do this!
Peace and much love,
Daphne
www.daphnewillis.com
http://www.pledgemusic.com/projects/freakslikeme
Raised in Chicago and relocated now to Nashville, Willis cites influences as varied as Elvis Costello and Michael Jackson, but her musical output cleverly incorporates such inspirations into a style that is refreshing and contemporary in a way that suits her songs best. Daphne is currently a Pop writer at Sony/ATV and continues to release music and tour as an Indie Artist.
Daphne released her first independent EP Matter of Time in September 2007; in a twist of fate, Vanguard Records head Kevin Welk heard a track on an American Airlines flight. This led to a record deal in 2008 and the release of her second EP, Exhibit A. 

To record her first full-length album, Daphne headed to the hills of Tennessee. She released What to Say in 2010, which was co-produced by Tim Lauer and Grammy winner Gary Paczosa. Album number two, Because I Can, came out in 2011 and reached the number two spot on iTunes' Top 40 Singer/Songwriter Chart.
2014's Live to Try features co-writes with Hunter Davis, Chris Faulk, Angela Lauer, John Oates (of Hall & Oates), Keri Barnes and Tim Lauer, while 2015's Get It EP kicks off with the track "Done With Bein' Done," which Daphne co-wrote with Grammy winner Meghan Trainor.
Thus far, 2016 has been a banner year for Willis. She has released two singles ("Spider in the Roses," a collaboration with frequent tour mate Sonia Leigh, and "The Struggle is Real," which advocates mental health awareness) and turned in main stage performances at both LA Pride and Nashville Pride. 

Daphne, who currently calls Nashville home, has been featured in or at http://perezhilton.com/, http://www.afterellen.com/, American Songwriter, The Pride LA and The East Nashvillian. She is currently putting the finishing touches on Come Together, an acoustic EP that re-imagines five classic tracks by The Beatles.