Rob Drabkin on Videos, Gear and Touring By Dave Tamkin
Rob Drabkin is joining Tony Lucca at The Homevibe Presents Walnut Room show on Tuesday, January 19th. I thought I'd ask a lot of the same questions I attacked Tony Lucca with. It's always fun to appreciate the unique similarities and differences between the musical journeys that take musicians to the same stage.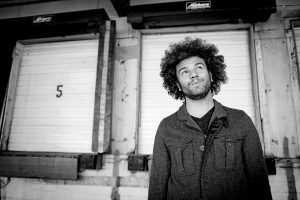 Rob's Bio: The music of Rob Drabkin is spirited in nature, light from the heart and rocking on the six-string acoustic.  The first thing you notice about Rob is The Hair.  His 70's style afro is as unavoidable as his ubiquitous grin.  But it's his music that's put him on national tours and landed him sets at Red Rocks Amphitheatre in his hometown of Colorado.  Rob and his band have become a force in the live scene, touring nationally as headliners and supporting acts such as John Butler Trio, Trevor Hall and Big Head Todd & The Monsters.  Rob's full band performances are high-energy blending improvisation and rock while retaining an earnest singer/songwriter background.
First question Rob, big question… How do you define success?
That's a huge question 🙂 On an individual level, I think it's finding a passionate and having the courage the invest your time and energy into that passion.  It's way of giving back to something you love.  It doesn't matter how far it takes you or how far you fall doing it.  The important thing is to take the risk and never give up on it.  On a communal level, maybe success just might be the ability to love, to care be compassionate to one another and hopefully wherever you're investing your heart in is a contribution to the community.
You have come up with some pretty amazing videos over the last few years. Each video seems to take the viewer on a new adventure. Where are these ideas coming from?
I love how art can be a platform create more art.  That's what's music videos are about.  Everything from a simple performance video to something abstract.   It's a lot of collaboration. I don't know how I could have done any of these video concepts without director Dillon Novak.  I approached Dillon with a song, and a few concepts or scenes that I envision and we go from there.  He comes back with a pretty specific pitch and location, we'd go back and forth and finally land on a really specific plan and budget and go from there.
Your video Stay won some nice accolades at the HollyShorts Film Festival. Can you tell us more about that video?
Stay (The Morning Light Fades) was one of the most memorable experiences of my life.  I knew in the back of my head that this needed to be a dance video.   There was something about watching that Sia's 'Chandelier' for the first time that pushed me over the edge to get a dance video in motion.  And it was process – finding a choreographer, a second dancer, a setting, a theme, lights, string players.   Dillon Novak and I gave as much vision as we could to Amanda Copple (choreographer) and she just rolled with it.  The shoot took one and a half days without a minute wasted.  Here are some behind the scene / uncut footage that puts everything in perspective on those two days .
How important is social media to you? 
Music should be about the music and not the popularity.  My goodness – social media is just everywhere. It's the musicians first means to spread the news, music, pictures to fans.  I noticed my newsletter doesn't go out as much because I can share a lot of it on social media.  Of course there is press outlets, there is radio, but somehow that all seems to get thrown right back in social media realm.  It's crazy!  I love and hate it :).
Do you have a favorite social platform when it comes to spreading the word about your tours and new releases?
I always start with Instagram.  I just love photography!  I'm a wanna be photographer with my little point and shoot and software.  I have such respect for images/photographers.
I recently picked up a Felix DI after discussing them with Willy Porter. Sarah Holbrook of SHEL raves about hers as well. (Video Here) I noticed you play with one as well. Why do you love it so much?
Felix DI is made by Grace Designs here in Lyons, CO.  You can have an amazing acoustic guitar and have it sound terrible in a performance setting.  There are so many variables from the pick up to the DI to the sound engineer to the room.  Felix gives you a LOT of control.  Even if it's a lousy sound engineer and not the liveliest of rooms, I have the control will still sound great!
How has planning tours for you changed over the years and how would you recommend a new artist get started with their first tour?
Start with an anchor date – that can be a private party, a festival, a conference, a college show, big opener, a big club show.  Something that is making your trip worth it.  Either financially worth it or big exposure worth it.  Build a route and stops that makes sense from there.
Of course you can just start a small route and continue to hit those markets and expand.  That could be successful the first time or a total bust.
I found a lot of success with couchsurfing.com when flying solo or duo!  Make sure you get a pro account and reach out to hosts a few days in advance.  Hotels are sometimes included in the deal with your show but a lot of times they aren't.  Offering up a small house show to your hosts is a way to get free lodging and another way to make more fans.
What bands are inspiring you these days?
 The Bird and The Bee has been in my playlist recently.  I love their singing and songwriting and I have a bit of a secret love for electronic music, especially if it's melodic with a great beat.    Definitely at the top of my list of plays right now.  This came out today: https://open.spotify.com/album/1cwn9CIrbTQkgiMj2hsgyh
Photo Credit: By Lucia De Giovanni (www.luciadegiovanni.com)