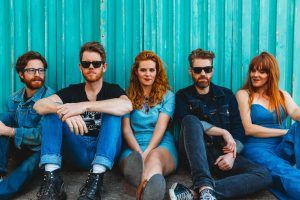 From the boroughs Of New York City, to the shores of Los Angeles County, gingers are often seen as a scarce commodity. However, against all odds, seasoned musicians Megan Burtt, Sara Dee, Zach Berkman, Casey Sidwell, and Ryan Vaughn miraculously united to form the world's first all ginger based supergroup – Gingerbomb.
In December of 2017, five redheaded strangers assembled in a small house in Van Nuys, California for a week long recording intensive, of which inevitably led to what the world now knows as Gingerbomb. In early 2017, Denver native, Megan Burtt asked fellow red-headed songwriters, Zach Berkman (NYC) and Sara Dee (LA), to contribute a few songs for a top secret new project. After a few months of song crafting and creative development, the trio of songwriters recruited a top shelf rhythm section – bass player Casey Sidwell (Denver) and drummer/percussionist Ryan Vaughn (LA/NYC). The rest, as they say, is history.
Wildfire is the lead single from the forthcoming debut Gingerbomb record. According to Burtt, "the song represents female empowerment – celebrating someone who walks her own walk and is confident in who she is and who everyone wishes they could have a little piece of." Wildfire is slated for it's official release on Friday, August 10, 2018, and it will be distributed worldwide across all digital service providers.
We got a hold of Megan Burtt mid-flight between New York and Denver to ask her for a sneak peak on how this band was born and how it plans to launch this new single.
How would you characterize the Gingerbomb's songwriting style?
I met Zach Berkman on a blind writing date set up by his publisher and we found that we write well together pretty quickly. After a few months our writing took a stylistic turn. We were previously writing specifically to briefs for TV and film pitches.  The writing change allowed us to explore more ideas outside of our own personal boxes. It was something more than what came natural to us on our personal projects. Zach and I finished writing the record last July and realized we had something pretty cool on our hands.
With each of you living all over the country I imagine a lot of prep work and communication was needed to start practicing and recording your first album. Can you bring us through that process?
Once Zach and I decided to start a band we discussed all the musicians we knew with red hair + talented as a player & musician. The lineup would end up being: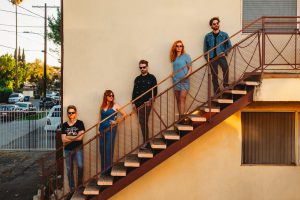 Sara Dee: Vocal, Keys
Megan Burtt: Vocal, Guitar
Casey Sidwell: All Things Bass
Ryan Vaughn: Percussion
Zach Berkman: Vocals, Guitar, Mandolin
Tod Livingston (a recent add!): Everything Low End
Once we found the band and had everyone's time blocked Gingerbomb started in December 2017. Planning happened with an extreme amount of Google Hangouts. We got to know each other this way in addition to talking through arrangements prior to recording. We laid down tracks in Sara's house in Van Nuys, California. We pulled all our resources together. Because Zach is a producer/engineer it was convenient to record on a laptop in Pro Tools. We borrowed a bunch of a gear from friends, I brought mics from New York and Denver and we were off to the races. A lot of the magic on this record speaks to everyone's musicality.
We now have a band Southwest credit card that will help with flights. We are still in touch with each other on a weekly (mostly daily, let's be real)  basis through Google Hangouts and a group text as we plan our upcoming tours.
Why did you pick GoFundMe to help fund this album?
We picked it mainly because they take the lowest percentage out of the goal and you don't have to hit the goal to receive the money. So, it's not all or nothing like Kickstarter even though the fees might be relatively close.
What was the plan on marketing this new project to reach your goal?
Here is another example of how we pulled our resources together.  We each have existing musical careers for over a decade. Though we might be a baby band we are coming together with a lot of experience, friends, and fans to help support it.
We also utilized everyone's collective skills to designate tasks to get everything done.  Sara did all the graphic design and artwork while Ryan has an extensive Music Business and booking background.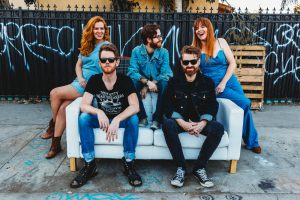 I took my experience of managing a solo career and kept our plan on track while contributing to newsletters and social posts and building the project. I'd have to say Sara and I handle most of the social accounts but the band sprinkles in their creative posts where they can. We all have access to each social platform to make sure we can share our adventures with all our supporters and listeners.
What are you looking forward to most about sharing Gingerbomb with Colorado in August?
I'm excited to have a new and fresh project to share. Gingerbomb is an easy thing to say yes to because it's fun, it's collaborative and Colorado is always up for new and fun music.
We all came to this with a good attitude and we were excited to see what we could make of it. It all happened quickly. Our band is a little niche – mostly because of our name but hopefully we created something different enough that it feels special and unique to our audience.
Personally, it satisfies me as a songwriter and as an artist. It's enough of an Americana writing style that it opens an outlet for me that I haven't had the chance to in my solo career.
Checkout Gingerbomb!
http://www.gingerbombband.com/
https://www.facebook.com/pg/gingerbombband/
https://www.instagram.com/gingerbombband/
https://twitter.com/gingerbombband
https://www.gofundme.com/gingerbomb