String Nuts & Saddles
By Mario Percoco
The string nut and saddle play a vital role in your instruments feel and sound. They set the action (string height), string spacing, string radius, and also transfer the strings energy which all contribute to the instruments feel and sound.  An improperly made string nut and or saddle are the number one cause of tuning instability, bad action and several other issues in stringed instruments.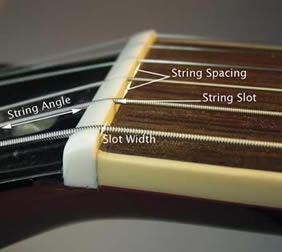 The nut must be properly seated and angled.

The string slots must be smooth, round, properly spaced, and filed to the correct height and width for each string gauge and the desired action.

The string slots should be just deep enough so that about half of the string sits in the slot and half out on the wound strings, and a little bit deeper for the unwound strings.

The saddle should fit tight enough so that it will not fall out on its own.

The saddle radius should match the fingerboard radius.

The saddle is set to achieve desired string height.
Besides being fitted, slotted and shaped correctly the material you use also makes a big difference. I always recommend replacing stock plastic or synthetic components for animal bone. Real bone creates real tone. Bone is a much better transmitter of the strings energy, lasts much longer, and sounds better. It offers a better high to low end balance, with punchier bass and crisper highs, increased sustain, harmonics, clarity and volume. I use only high quality bone blanks and custom shape and slot each one to fit your instrument perfectly.
Here are a few pictures from a recent bone nut and saddle upgrade: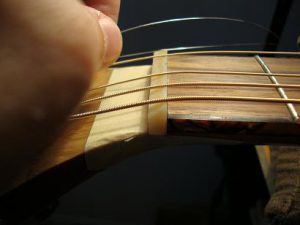 The nut has just been cut and slotted and is starting to take shape.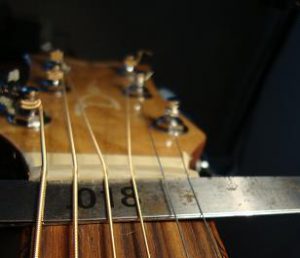 Here I'm in the process of setting the action (string height) using metal spacers as a guide, and testing for any issues.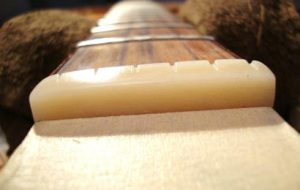 Once properly slotted and shaped, the bone is polished to a high gloss, reinstalled and ready to amaze!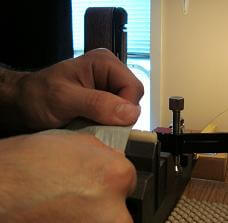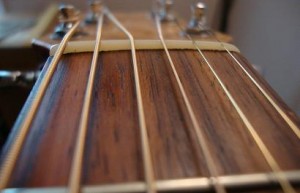 The custom bone saddle below is the final touch.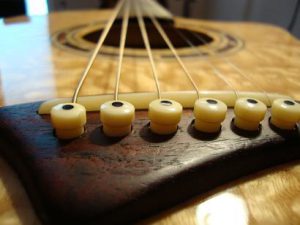 Name one book you can recommend: Dan Erlewine's Guitar Players Repair Guide.
Name your top 5 favorite pieces of gear:
DigiTech RP500 Guitar Multi Effects Pedal
Vox AC4TV 4W 1×10 Tube Guitar Combo Amp Cream
Jackson 4×12 cabinet w/Jackson speakers
1950 Silvertone acoustic parlor guitar
1970's Washburn D10 acoustic guitar
What is one thing you can't be without on the road? The Silvertone acoustic because of its small size and cool tone. It's not like an expensive solid wood guitar kinda tone, but it has its own cool thing going on. Sometimes it sounds almost like a banjo, depending on where you strum/pick.
Who are you listening to now? The Black Keys
Natural material = Natural sound
Experience The Guitar Workshop difference.
– Precision Craftsmanship With Attention to Detail –
The Guitar Workshop
Mario Percoco
528 E. Bailey Rd.
Unit 104
Naperville, Il. 60565
630.989.9620
http://theguitarworkshoponline.com