Reed Foehl on Songwriting By Dave Tamkin
Reed Foehl's Bio: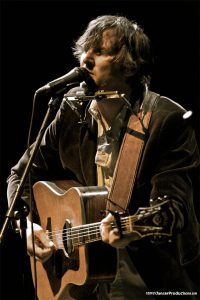 After a move to Colorado, Reed's clear tenor, emotional songwriting, and undeniable charisma as a front man launched Acoustic Junction in 1989, which developed a cult following in the jamband era of the 90s. The band released six albums, a collaboration with Graham Nash, and was signed to Capricorn Records and later Mercury Records. Making music with friends and seeing family all over the country fueled a tireless road schedule and devotion to high-energy performance and songwriting.
But 10 years into Acoustic Junction, Reed found himself at a famous crossroad when his son, Jaden, was born: Would he continue the life of a road warrior, or be a father to his son? "After two years of leaving Jade at home, I knew I just needed to plant myself there. To help raise my son. To build a real relationship with him. But it wasn't easy," Reed recalls.
He battled with the idea that if he stayed on the road, his notoriety and financial success in the industry could grow more quickly. But he'd miss out on seeing his boy grow up. "All the money in the world couldn't buy that time," Reed said. "Kids don't care about money. They just want their father there. Luckily, I realized that."
Not long afterward after getting off the road, the second event that would shape Reed's next decade came; his father succumbed to a battle with cancer. It was a huge loss for Reed. But the responsibilities of being a dad and the burden of grief from his father's death did not stop Reed's growth as an artist. He treated his emotion as something intensely sacred, and poured it into his songwriting. His church and confessional were anywhere there was a microphone and an audience within an hour or two of home.
Reed found a new kind of success in short trips once or twice a year to Los Angeles, New York and Nashville that earned him placements on the silver screen, television, and commercials. He put what money he could from the royalties to make three solo records: Spark (2004), Stoned Beautiful (2007), and Once an Ocean (2009). Meanwhile, the music industry was seeing some of its deepest shifts since the dawn of Tin Pan Alley. Large labels were falling by the wayside in favor of independent artists with grit, stamina, and charisma as pioneers of a new musical landscape – traits, you might guess by now, Reed carries in spades. He continued to produce his own brand of powerfully emotional, masterfully crafted music, with each new song informed by his fresh experiences with love, death, family, and solitude.
Reed, I'd like to focus on songwriting though I know your career continues to grow in so many directions. Can we start with Nashville and how one of your songs was covered by Lee Ann Womack?
I've been going to Nashville a lot over the years. One of the first companies to embrace me and let me write with their writers was Carnival Music. The president Frank Liddell happens to be married to Lee Ann. So the song "fly" which I co- wrote with Carnival writer Brent Cobb got into her hands and she liked it enough to cover it!
I remember being blown away by the band Morphine at one of the earliest Lollapalooza's back in Chicago. An unbelievable three piece, drummer, Billy Conway played all over the pocket accompanying a baritone sax and bass guitar. I hear Billy will be playing with Jeffrey Foucault at your show this Thursday. What is your history with Billy Conway? 
Billy Conway and I go way back. In fact he came to my house on thanksgiving one year when i was around 16 years old. We went on the traditional post eating walk and he asked me when I was going to start writing my own songs. From that moment on I've been writing ever since. He's been a big inspiration to me!
What year did you start licensing your songs and how did you go about it?
I think 2001 was my first placement. A fan sent my CD to the WB and I got lucky. From there it just snowballed, I went to LA a lot and met with the supervisors to personally thank them and asked them about other supervisors looking for songs. I am proud of them all but the feature film "Just Friends" was pretty special, silver screen and all!
What artists are inspiring you as songwriter these days?
Man, too many to list. But I have to say my friends, Anais Mitchell, Gregory Alan Isakov. When you friends are so prolific and good it's a good benchmark to keep up and be challenged to keep working on your craft.
How do you define success?
Success is not monetary at all, though it's important to be responsible and survive. If you can do what you love and be fortunate enough to accomplish that and maybe more than that… to me that is success.
What would you tell your 21 year old self about the music business if had the chance?
I would tell myself to have conviction and stay true to you. In the end, integrity is what you can keep and no matter what happens you can feel good that it is your path that you chose and it doesn't belong to anyone else.