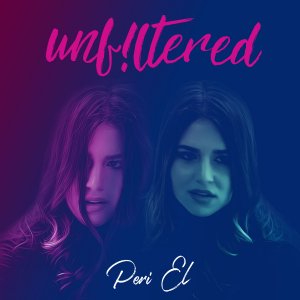 Sometimes, when life knocks you off your balance, you write a song about it. For Peri El, it happened enough times out of the blue that she ended up naming her debut EP based on the phenomenon. Peri El's music is unfiltered and she does not slow down. Based in Boston, originally from Baltimore, Peri pairs her powerful voice with her unique compositions and arrangements in her upcoming Shades of Blue EP. With this release and an upcoming tour to support it, Peri is poised for big things in 2020.
Peri was born a true storyteller, and she tells her stories through song. Singing since the age of two, she always preferred making up her own stories and singing them rather than reading anyone else's. After seeing her first Broadway show at age four, Peri knew that she had to pursue a career in music and has been working hard at developing her craft ever since.
What Peri loves so much about music is its power to make people happy, helping spread change and putting positive messages out into the world. She channels her vulnerability and uses that to share her personal experiences throughout her own musical output. These combined elements make Peri a truly gifted storyteller. Her formidable voice, alongside elements of jazz-made-pop, make her songs stand out.
Her approach to songwriting and production are classic, eschewing autotune and using real instruments played by talented musicians. It's a refreshing take in this modern age, more analog than digital. But Peri's uniqueness lies in her power to take this concept and also push the boundaries of pop music, resulting in songs that easily combine traditional song structures with playful yet surprising moments. It's a powerhouse collection of songs that leaves the listener feeling more determined and energetic.
What's the biggest problem you've had to overcome so far?
Bullying! When I was in high school I was bullied really badly and had to transfer at the end of my sophomore year. My writing saved me. I was so lost and questioned who I was as a young 16 year old girl and just wanted others to accept me for who i was. I struggled with explaining my feelings and getting my thoughts out, but when I would write a song about it, it came so easy to me. It was extremely therapeutic. All my anxieties and depressed thoughts would come pouring out in my writing when I felt so trapped with them. It was my only way to get them out at the time.
Who inspired you to make music?
My parents took me to my first concert at age 7 to see James Taylor and Carole King. My life was forever changed after that show. We sat second row on the floor and could literally touch the stage if we reached our hands out in front of us. I knew after seeing Carole King and James Taylor perform a masterpiece that I wanted to be just like them one day. I couldn't stop singing their songs and as soon as we got back home, my parents put me in voice lessons. The way they shined on stage and made their audience feel so welcomed and happy was the best feeling in the world. I wanted to make people that happy one day too.
What is one message you would give to your fans?
Slow down, take a little time to figure it out. Why rush your life when you only have one chance to live it?
Do you collaborate with others and if so, what is that process?
Yes, I think collaborations are key to being successful in this industry. It's all about networking. I love co-writing with people more than anything right now. It is amazing what you can do with others by feeding off one another. Why do it yourself when there is a world of people out there waiting to collaborate? It takes a team to get to where you want to be, don't think you can do it on your own. I thrive when those around me thrive too.
Usually for my writing sessions I either go into a studio/bedroom/classroom with an open mind or have a melody or words stuck in my head. Honestly, it all depends on the day. Sometimes when I'm feeling really blue, things just come quick, but sometimes that's not the case. I just try to always let the situation tell me how the vibe of the song is going to go, I listen to my intuition It always depends on who you are writing with but I usually always have a song in the back of my mind when going into a writing session, whether it's a song already written and I want to use that as an example or I have a new one in my head that feels like it is about to pour out. I also love writing to music already written to. I am really flexible when it comes to writing, which I think could be a strength in the future. Most of the time, a song just comes to me and I write it down.
What advice would you have for yourself 2 years ago?
Do not give up, and slow down. I would tell myself to keep trying and pushing because with every hundred NO'S there is that one thrilling and deserving YES! I wish I could have been more reassuring to myself and would have told myself to never give up because I am good enough. I had really low self esteem two years ago and would be so proud of myself now. I did it! I stuck with my dream and I am pursuing it! I do not have regrets for myself two years ago but I do wish I was more proud and kind to myself.
What currently inspires you the most?
Hearing others stories. More than anything in the world, I love when people tell me their own stories and how they related to my music. It is so touching and powerful to see how my music has touched others and impacted peoples lives. A dream come true! I love more than anything hearing that my songs helped people through their happiest and toughest times. That's what these songs did for me. I write to spread awareness about social issues that people might be afraid to talk about, but also to help those who want to be heard. I want to be a voice for all I hope that more and more people open up to me and share their stories as my career furthers. It is the most rewarding part of what I do.