Friendly Words From Doc Scary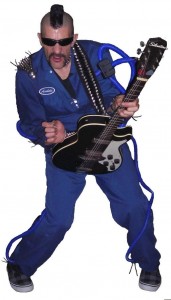 Here are some things I have learned from working with other musicians, and industry professionals, on my meteoric rise to mediocrity…
Always keep a professional attitude.
Don't ask anyone what they think about your music. After all, musical taste is a matter of personal preference. Just because someone does not like it, does not mean it is not good – and vice versa. Don't say anything negative about anyone, or their music, even if they ask, but try to be honest.
Write and speak from your heart. If it feels forced or contrived, don't do it. Always be honest in your dealings, and don't be the bragger – make sure you can back up everything you say. If someone is not interested, you may not hear from them. If you are continually asking for approval, or clogging up a mailbox with mp3's, indifference could turn to dislike – and you're trying too hard, wasting your time and energy. If any song is giving you a hard time, you keep rewriting it, or you're having trouble with a cowriter, etc. – move on. Life's too short, you need to have that positive energy at all times.
For many years, I thought everything I wrote was an awesome piece of art. Get over it. With all the great music available online free, chances are, no one cares. Write better songs. Always try to do better than the day before, and you will. That's not a reason to spruce up what was fine before. Quit polishing that turd, and start making more, better music! Your odds lie in statistics, not talent or production quality, and a lot has to do with who you know, (sad to say).
The best way to attract attention, is to give it, generously, and not ask anything in return. Don't expect to be the "next big thing" – that's mostly behind us – you should be happy if you can pay the rent now and then, (don't quit your day job lmao). Don't be shy, send that email, send that comment – I have exchanged emails with many stars on myspace, and found most to be friendly and responsive. You have to do something to get noticed…explore all avenues, concentrate on those that show the most promise…and always write more, better music, from your heart!
My pet peeve: all the artists that put a huge comment ad for themselves on MYspace – the WORST is the autoplaying. If I leave a comment at all, it is because I actually read the page, listened to the music, and want to show my appreciation. Personal connections, I cannot stress enough.
Get off the drugs, and write better songs!
Cheers! d
www.reverbnation.com/fetalzombie
www.myspace.com/thelurkingterror
Recommended reading: The Bible
Favorite piece of gear: My Scary amp
Can't live on the road without: My Schaller bow-wow pedal