I love discovering new music. So when an ad came across my Facebook page for Adult Cinema's album, Teaser Trailer, with the quote, "The missing link between  Pink Floyd and Porcupine Tree",  I was intrigued. Then there was the fact I could download it for free. I was sold.
After a few listens I have to say the quote it spot on, but a bit generic. There is a lot more going on in these 11 tunes than I was lead to believe, and that's a good thing. Everything from early Genesis, Yes, Pink Floyd, to The Beatles more inventive side are evident. Then everything is blended with folk, jazz, electronica, and modern day art/prog. But this isn't an album that steals from it's influences, it's a killer piece of original work. Teaser Trailer is an album for people who truly love music.
---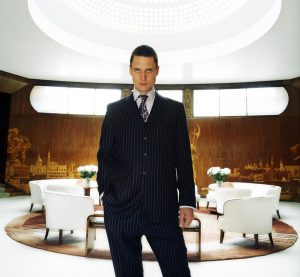 Adult Cinema is the One Man Band and Classic Rock disciple Mike Weston. A craftsman in both music and life.
Mike's quest to regenerate a maligned genre has taken this artisan from the workshop to the studio. Early success stalled, but the attention of Hollywood and the TV industry and support from a core of determined fans who sought him out one by one, convinced him to down tools and return to the studio.
Likened to the titans of Classic and Prog Rock, the Southend-on-Sea native shunned such comparisons, preferring to reinterpret the genre by incorporating influences from traditional jazz, through folk to modern rock and electronica. But his songs also carry the mark of a craftsman – for he is that too. Both in music and as a result of his eclectic upbringing and life experience that taught him to craft songs with the same attention to detail as he did when earning a living with his skilled hands.
In short, Adult Cinema is the sound of a master craftsman decoding and rebuilding Classic Rock.
---
Mike's journey to get to where he is now has not been a straight line. What got him to the point that he is at now has a lot to do with the  people who supported him. He has written about his journey extensively.
Read up on all it took (the highs and lows) for Mike to get where he is now. It's a wonderfully honest look at the hardships and need to persevere  to get ones dreams up off the floor and running.
Music, being overwhelmed and you! 
---
You can download the ENTIRE new album, Teaser Trailer, here as well. This is a limited time release so snag it when you can. I highly suggest if you enjoy the album as much as I did you buy the CD and help support this amazing musician.