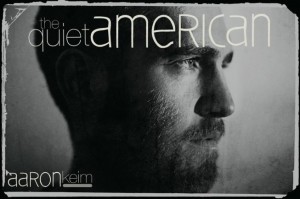 The Quite American and His Instruments
Interviewed by Bryan R. Sansom
Musician, luthier, historian and songwriter; Aaron Keim is a roots music renaissance man.  As The Quiet American, Aaron performs traditional and original folk music on guitar, ukulele and banjo. (which he builds himself!)  Inspired by depression era string band music, old timey gospel, lo-fi garage rock and the modern indie-folk scene, The Quiet American is a compelling mix of old and new.
After falling in love with music in the school band and choir, Aaron studied music education and french horn in college.  He stumbled upon an old time hootenany outside of Cimmaron, NM in 1999, which inspired him to learn the upright bass and start The Paradise String Band.  While teaching orchestra in the public schools, Aaron began his career building and restoring string instruments.  In 2003, Aaron moved to Colorado and earned a master's degree in music history from University of Colorado.  In 2004, Aaron founded Boulder Acoustic Society, which has played over 1,000 shows all over the US, focusing on a genre bending mix of folk, rock, jazz and classical.  While traveling with BAS, Aaron taught workshops and masterclasses on roots music, studied banjo, ukulele and guitar with the masters, performed for huge festival crowds and embedded himself in the modern folk scene.
What inspired you to start building your own instruments? First I was inspired to restore old, broken instruments. I love old things and am fascinated by taking things apart to see how they work. Later, I started building because no one else was making instruments I wanted to play.
As someone who has built the instrument they perform with, you have a more intimate   connection with it versus something bought in a store. Have you found that this connection has inspired you and affected the way you play? I don't think I have a greater connection because I built it, by I do think I build better because I play. It has led me to insist on certain design features that I think professional musicians need and want.
How did you turn your interest in making instruments into a business? I met Heidi and Rob, who are musicians and entrepreneurs. They believed in me and worked hard to start Beansprout Banjos and Ukuleles. I worked with them for 2 years before I bought them out. Then I ran Beansprout on my own for about 18 month while I started my collaborations with Mya-Moe ukuleles. (www.myamoe.com) That has led me to a full time spot building with them.
Like most musicians, I didn't have any training in business in college. Years of touring got me a lot of business experience, but I still had so much to learn about running a business properly.

How has the business affected your musical career? Over time, my building and my music have grown closer together and more supportive of each other. Now, most of the people who see me play also know about my instruments and most of my luthiery customers are also fans of my music. My solo act, The Quiet American, uses mostly instruments I build or modify. www.quietamericanmusic.com
Building ukeleles must be time consuming, as is being a musician. What advice do you have for maintaining balance between the two, and prioritizing your life? I used to be sort of a jack of all trades, but as I get older, I have specialized more and more. I stopped teaching, writing and blogging etc…so that the two things I do could be the best they could be. I also work towards quality and efficiency in both fields.
What is one book you could recommend to our readers? The Rose and the Briar. It's about folk ballads. Geeky, I know, but I love it.
What is your favorite piece of gear? It's a tie between my 1930's Maybell archtop guitar (I put a '60s gold foil Teisco pickup on it) and my Big Muff fuzz pedal.
What is one thing you can't live on the road without? A book, my iphone and an ukulele. I know that's three things, but that's how I roll.
Who are you listening to these days? I just got a 100 track compilation of 60's garage rock. There is some weird stuff on there!