Design Your Own Poster
by Kurt Gunn
Green Bay, WI
I am by no means a graphic designer; let's get that clear right now. PDF what, TIFF what, Photoshop???? Just make my posters look cool, and send me the bill man. Well let me tell you that all adds up fast. So you are getting $150 for the gig, and having someone design your fancy show poster just put you $70 in the hole before you even sent them to the printer.
I believe that promotion is key, and a professional looking show poster will help grab eyes that otherwise would not have been grabbed.  Posters are a very important step that is often overlooked most likely because of the price.
I found this little gem a few months ago, and have used it for a ton of things. I've used for myspace background, logos, and most importantly, show posters.  The site is www.picnik.com.  I upgraded to the premium package for two dollars a month, and then said goodbye to my design dude I have been getting a ton of attention on my posters, even from graphic designers, so I know that it is working.  I don't have time to give you a great big tutorial.  Just play around with it, and try all the features and see what it can do for you.  If I can do it anybody can.  It does have some limitations for those that are completely picky, but I've found it has done more than enough for me.
Here are a few tips I will give you.
Just spend the money and get professional photos taken and no don't get it done at Target, or the mall. Once you have those high res photos of your band you can do a lot of damage.
Do an image search of High Resolution Backgrounds.  Preferably solid color. Use that background as your template for your posters you are going to design.
Don't get to busy on your poster, and make sure that they can be read clearly think drunk people.  Your Name, Date, Time, Venue, Cost, and Website should be on every poster.  Don't assume everybody knows who you are.
Four 11X17 posters should be good for a normal size venue.  I also like to get (1o) 8′  by 11 sheets of the same poster quartered.  This gives me 40 nice little hand bills to have the venue put out the week before the show.  Have Kinkos cut them for you the cost is very minimal. Create your poster on Picnik, save it, email it to your local Kinkos, and go pick it up. The whole operation cost you $20 bones instead of $100.  Don't skimp on color
Always have your posters up a month to two weeks before your show.  Make sure they go in the right hands, or hang them yourself
Here is an example of something I created on Picnik with no design experience at all.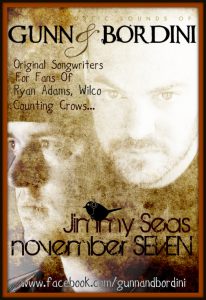 www.facebook.com/gunnandbordini
www.myspace.com/gunnandbordini
www.myspace.com/wisconsinsongwritersrevival